Air Fryer Mahi Mahi combines succulent Mahi-Mahi fish with a lightly spiced crispy coating, a wonderful mixture of textures and flavors. And it has only two main ingredients, and it'll be ready in less than 15 minutes.
The air fryer Mahi Mahi recipe is perfect for those looking for a healthy dinner recipe that's easy and quick. It's ideal as a quick midweek meal and easy to make for larger groups.
This Mahi Mahi recipe perfectly combines the sweet taste and the beautiful flaky texture of the Mahi Mahi with a bit of spice from the taco seasoning. It has many healthy omega-3 fats, but it's much leaner than other types of fish, so it's a good choice if you're trying to cut back on fat.
So without further ado, let's get to know the recipe on How To Cook Mahi Mahi in Air Fryer. 
How To Cook Mahi Mahi In Air Fryer?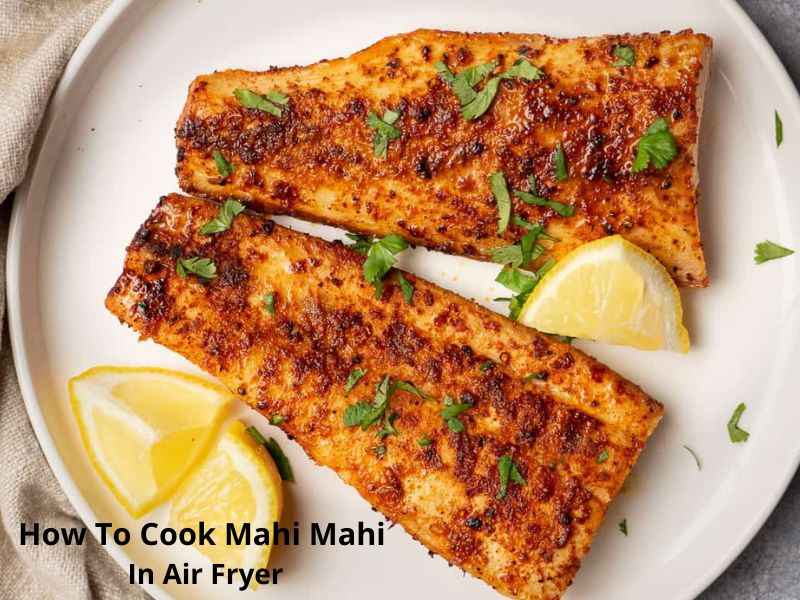 You can easily cook mahi mahi fish by using a best quality air fryer. To make this air-fried fish, you only need two things.
Ingredients
Mahi Mahi fillet frozen or fresh will be fine for this dish, but if you use frozen, make sure they are fully thawed before you start cooking.
Seasoning for tacos. Using your favorite taco seasoning, you can make your Mahi Mahi as mild or spicy as you like. If you don't have taco seasoning, you can make your own by mixing spices like paprika, chili powder, cumin, garlic, onion powder, oregano, sugar, and salt.
You will also need a small amount of cooking spray or olive oil.
Steps to Follow
First, use a paper towel to pat the mahi mahi fish fillet dry.
Then, brush or spray olive oil on the Mahi Mahi and roll it in the spices. The amount of oil should be the same on both sides.
After your fish has been seasoned, place it in the air fryer basket and cook at 400°F for 10 minutes, or until opaque and flaky.
| | | |
| --- | --- | --- |
| Prep time | Cook time  | Total time |
| 5 min | 10 min | 15 min |
Pro tips
Fish that has been air-fried tastes best right after it has been cooked, so don't wait too long to start eating it.
Mahi Mahi should have an internal temperature of 137°F to be safe to eat. You can use an instant meat thermometer to find out.
How To Thaw Mahi Mahi Safely?
If you want to defrost your fish, make sure it's in a vacuum-sealed package. It is how most fish you buy will come. If you take the fish out of its packaging to defrost it, it can soak up water and lose its flavor.
Take your fish package and put it in a dish. Then, use cold water from the tap to fill the dish. The fish will cook too quickly if you use warm or hot water. Give your fish 15 to 20 minutes to soak in the cold water. And it will be ready to cook now that it is no longer frozen.
When Is Mahi Mahi Ready To Eat?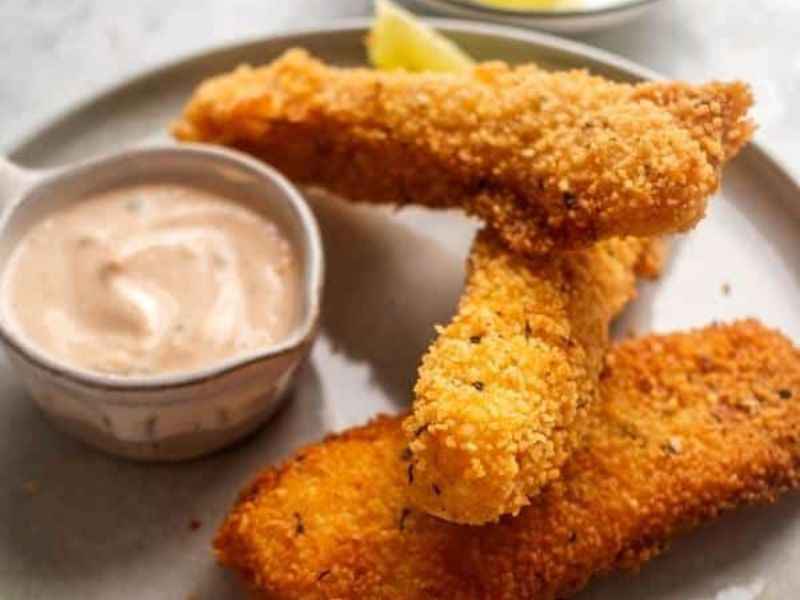 Check the temperature or use a fork to ensure the middle is tender no matter how you cook or grill it. The ideal temperature inside is 137 degrees F. I don't use a thermometer for fish very often.
If you try to cut it with the side of a fork and it goes through quickly and smoothly, it is probably done. Check to see if the center is also white or if it is still a little bit see-through.
How Long Does It Take To Cook Mahi mahi In An Air Fryer?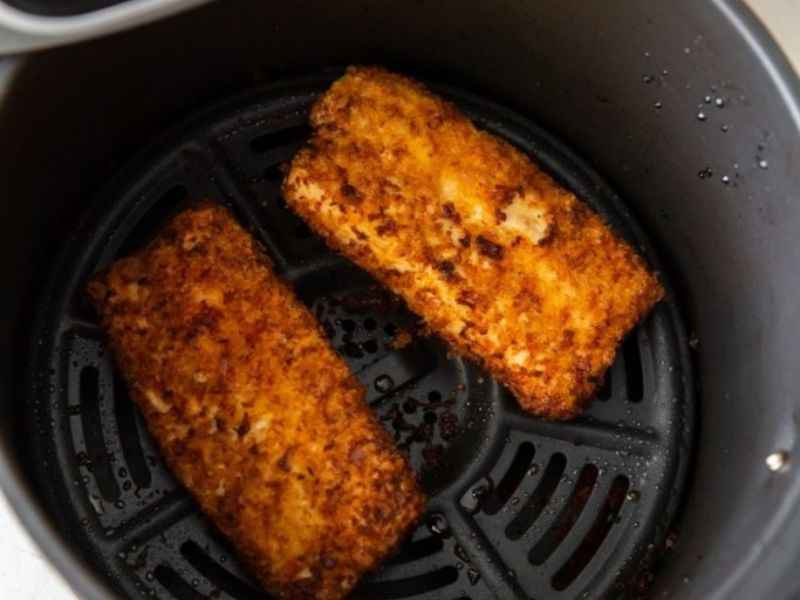 In an air fryer, Mahi Mahi takes about 10 minutes to cook. In order to cook a fish fillet safely, you need to cook it until it reaches 137°F on the inside.
Cooking the fish too long will cause it to dry out and lose some of its delicious flavors and textures.
How To Cook Frozen Mahi-Mahi In An Air Fryer?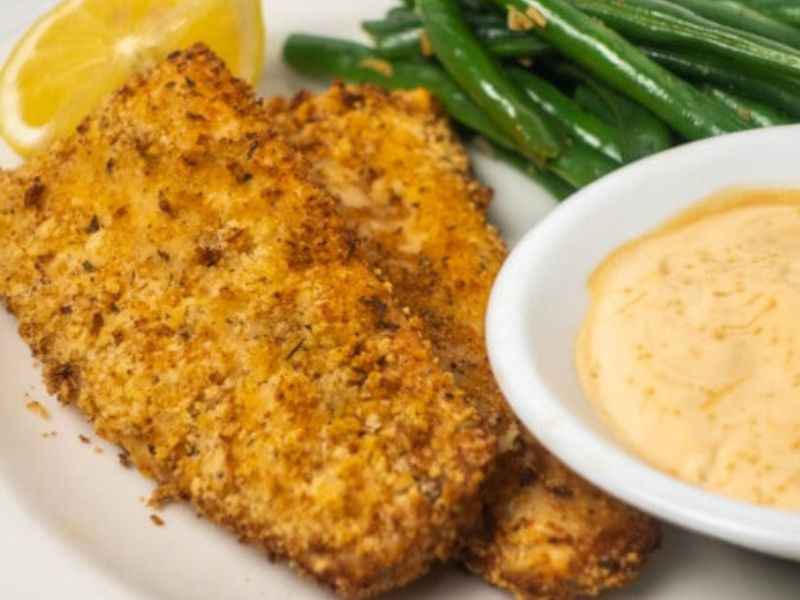 Spray olive oil and seasonings onto the fish in the air fryer basket. Air fry at 400oF for 8 minutes, flip, spray with olive oil, and season.
The Mahi Mahi should be cooked for another 5 to 8 minutes, or until it reaches your desired level of doneness. When a meat thermometer reads 137oF, it is safe to eat Mahi Mahi.
What To Serve With Mahi Mahi?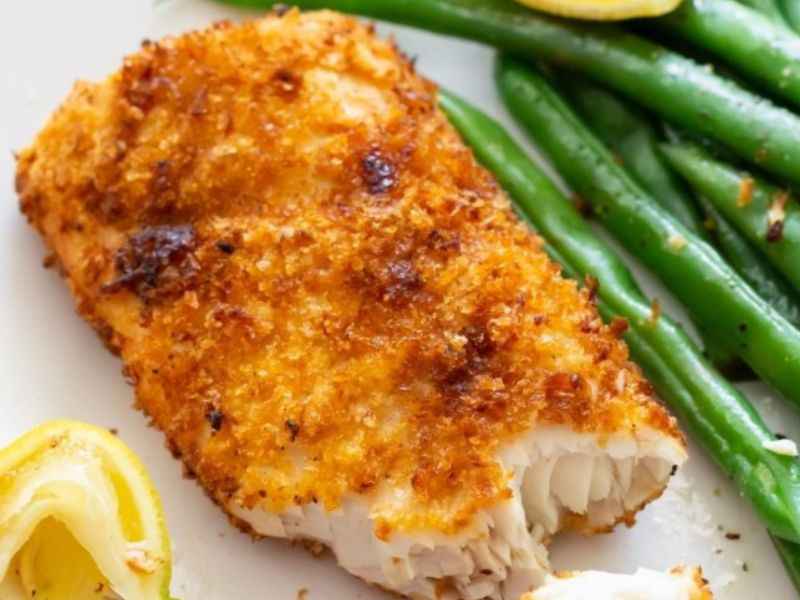 This easy Mahi Mahi recipe is one of our favorites because there are many ways to serve it.
Mahi Mahi tacos: Just use a fork to break up the air-fried Mahi Mahi and serve it with slaw, salsa, and avocado wrapped in a warm almond flour tortilla. Make a batch of black bean and corn salsa to go with them if you want them to taste even better.
Mahi sandwich: Serve your fish fillet in a roll with fresh lettuce, tomato, and avocado that has been mashed.
With salad: When served with a simple salad, like this massaged kale and apple salad, Mahi Mahi cooked in the air fryer tastes excellent.
With cooked vegetables: Something special happens when you eat fish with your favorite crunchy roasted vegetables.
With cauliflower and brussels sprouts that have been mashed: Make mashed cauliflower in an instant pot and brussels sprouts in an air fryer to go with your Mahi Mahi for a quick and impressive meal.
How To Store Mahi Mahi Fish?
Cooked Mahi Mahi can be kept in either the fridge or the freezer. Wrap your fish in plastic wrap or seal it in a shallow airtight container to store it in the fridge. Ensure to put it in the refrigerator within two hours of cooking it. Mahi Mahi will last 3–4 days in the refrigerator.
To freeze Mahi Mahi, put it in freezer wrap, a heavy-duty freezer bag, or a shallow airtight plastic container. Freeze the food within 2 hours of making it. It will last for about two to three months in the freezer.
How To Reheat Mahi Mahi In An Air Fryer?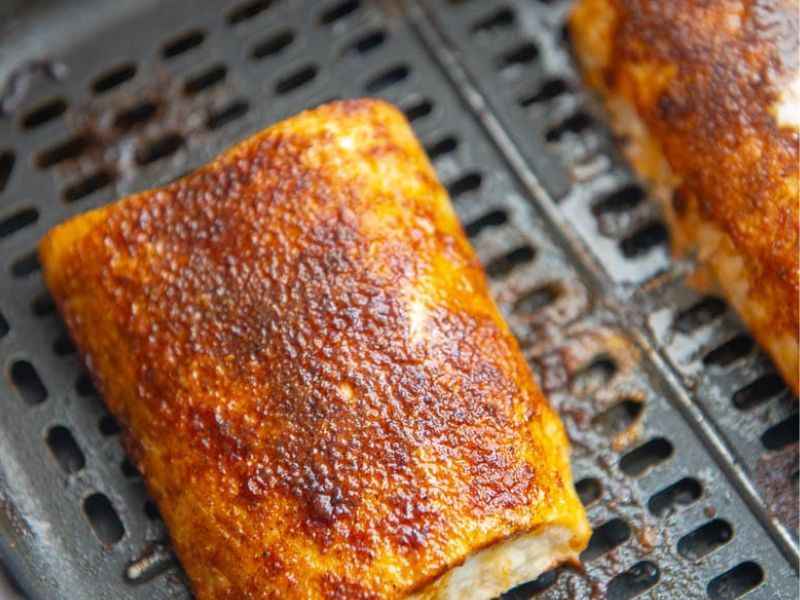 You can reheat Mahi Mahi Fish that has been refrigerated or frozen in an air fryer. Start by heating the air fryer for about 5 minutes at 400°F. Then, brush the fish with oil and put it in the air fryer. Make sure to add the Mahi Mahi fillets in a single layer, as this will help them cook evenly.
Cook Mahi Mahi that has been in the fridge for about 6 minutes in the air fryer, making sure to flip it halfway through.
For frozen Mahi Mahi, add 5 minutes to 15 minutes to the cooking time. But again, make sure you flip it over halfway.
Best Seasoning For Mahi Mahi
Most foodies love the Mahi Mahi with taco seasoning because the spicy flavors go so well with the fish. You could also follow this method and try different spices. Mahi Mahi goes well with the following seasonings:
Capers, garlic, and parsley. Once cooked, squeeze over some lemon juice.
Salt and pepper are easy.
Chili flakes with a squeeze of lime juice on top.
FAQs – How To Cook Mahi Mahi In Air Fryer
Can you cook fish in an Air Fryer? 
It is easier to fry fish at home with an air fryer. Air fryers allow you to cook frozen or fresh seafood that tastes as it came right from a restaurant's kitchen.
How long do fish fillets take to air fry?
When air frying fillets, adjust the temperature to 380°F/193°C and cook for 8-14 minutes according to their size and thickness. Turn the fillets over after 6 minutes. Lightly spray any dry spots, and then keep cooking for the rest of the time or until the fillets are crispy brown and the dish is done.
Can you use an air fryer for cooking frozen fish?
You sure can. Frozen breaded fish fillets take 12 minutes to cook, and you don't have to let them thaw. You'll love making this quick and easy dinner during the week when you're busy.
Can you use an air fryer for cooking frozen salmon?
Frozen salmon is excellent because you don't have to let it thaw before cooking it in your air fryer. It can go from the freezer to your plate in about 15 minutes. But don't be afraid! It won't at all taste like it was made quickly.
Conclusion
Using the air fry to make Mahi Mahi fish will save you from unnecessary cooking hassles. Plus, each time, you will get yummy crispy fish.
We hope you will follow the recipe at home.
Serve the cooked Mahi Mahi Fish as the main dish in your family gatherings.