Air fryer helps to turn simple veggies into yummy dishes. The best example is the air fryer frozen broccoli recipe which can be a delicious side dish for your dinner. We have shared the recipe on how to cook frozen broccoli in air fryer so that you can make the dish without any errors.
Broccoli is a simple veggie and contains so many nutrients. When you air fry the frozen broccoli, it comes with a crispy outer layer that will be loved by everyone.
Making crispy frozen broccoli is effortless, quick, and above all tasty. If you don't find a suitable recipe for using your air fryer, then this is the best to start with.
What is the best way to eat frozen broccoli?
Fresh veggies are always the first preference but you can keep a handful of veggies in the freezer on hand for convenience. They are always handy for instant food. Broccoli is the most common veggie that most people store in their fridges.
But when you cook, steam, or microwave the frozen broccoli, it will turn into a soggy mush and nobody wants mushy vegetables. An air fryer can save your day. If you fry the frozen broccoli in the air fryer, you can enjoy a crispier outcome and this is the perfect solution for eating frozen broccoli. It tastes like crispy roasted broccoli, both kids and adults will love it.
Which is more delicious: air frying or roasted frozen broccoli?
Veggies can eat by roasting or air frying. Most people choose the roasted method for fresh produce. But when it comes to cooking frozen broccoli, roasting is not the best approach.
Roasting vegetables requires thawing first. After that, squeeze the excess water and roast in the microwave. But most times it comes up with a liquid mess on the baking sheet leaving soggy vegetables and the flavor gets blended. Moreover, thawing and squeezing them sucks the time.
An air fryer is surprisingly the best choice to eat frozen broccoli. It is a healthier method. It also makes the food delicious. If you own the best air fryer, you can find the best method for cooking frozen vegetables.
Should I thaw the frozen broccoli before cooking?
One thing you may find in maximum air fryer recipes where the main ingredient should thaw before putting in the air fryer. But in the case of frozen broccoli and cauliflower, you should not thaw them.
Yes, you heard right, do not thaw the frozen broccoli to cook in the air fryer. It is a secret tip for perfectly cooked crispy broccoli. You need to directly put the frozen broccoli in the air fryer. This is also a time-saving technique that cuts prep time.
How To Cook Frozen Broccoli In Air Fryer?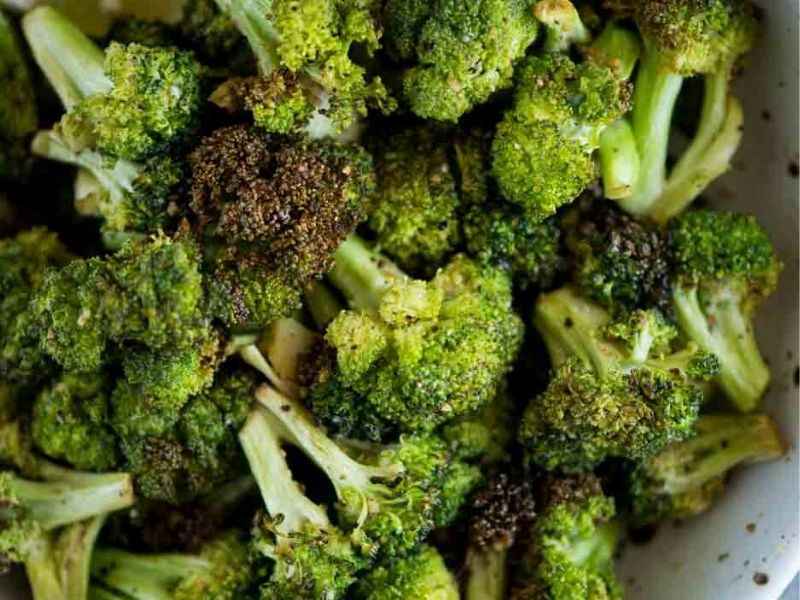 The recipe for cooking frozen broccoli is very easy. There are a few ingredients that are required for the recipe. You can keep it plain or add some seasoning to increase its flavor. So let's get into the recipe.
| | | |
| --- | --- | --- |
| Prep Time | Cook Time  | Total Time |
| 2 min | 20 min | 17 min |
Serving People: 4
Nutrition (among per person): Calories: 94, Total Fat:4g, Sodium: 335mg, Fiber: 6g, Protein: 4g, Carbohydrates: 13g, Sugar: 2g
Ingredients 
4 cups frozen broccoli
1 tsp garlic powder
1 tsp onion powder
½ tsp salt
½ tsp black pepper
½ tsp turmeric (optional)
1 tbsp of olive oil
Instructions to cook frozen broccoli in air fryer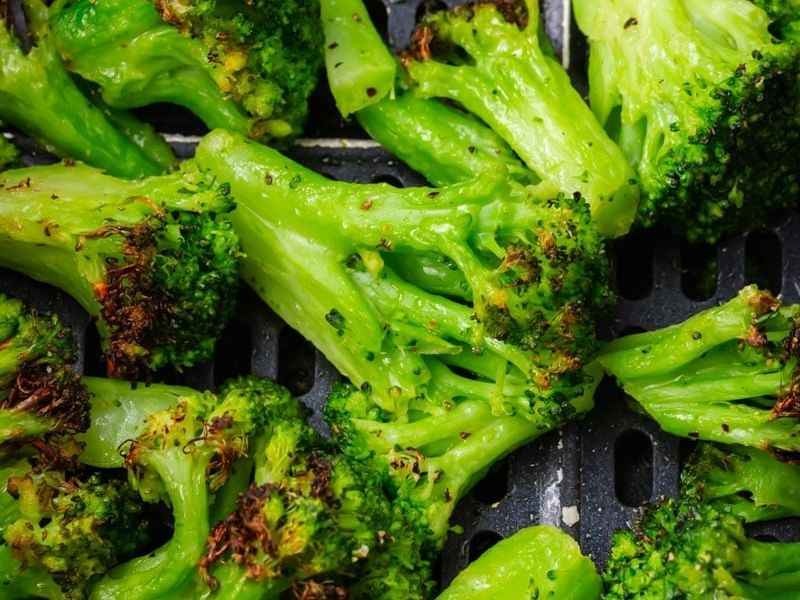 Step-1
Preheat your air fryer at 400°F.
Step-2
Take a large bowl and put the frozen broccoli in it. Then add the spices, salt, pepper, garlic, and onion powder. If you don't like spices, you can keep it simple by only adding salt and pepper.
Step-3
Toss everything together to combine the species well. Now, pour some olive oil. You can use any type of oil like vegetable oil, or avocado oil.
Step-4
Bring out the air fryer basket or tray, and place the seasoned broccoli in it.
Step-5
Now, air fry the broccoli for 20 minutes. In the mid-time of air frying, shake the basket of the air fryer and flip them over. Then air fry for the rest of the time, until you get the expected crispiness. When the broccoli becomes golden brown, remove the air fryer basket carefully.
What to serve with air fryer broccoli?
Simple crispy air fryer broccoli is great to eat, but dipping sauce can boost its flavor. If you serve the crispy broccoli with a dipping sauce, it won't take much time to empty the bowl. There are many types of dipping sauces you can make.
The cream cheese sauce is the most popular one that is served with roasted vegetables. With some basic ingredients, you can make an incredible dipping sauce. You will need room-tempered softened cream cheese, sour cream, mayonnaise, herbs, and green onion.
First, soften the cream cheese. You can keep it in the microwave for 30 seconds and it will be done.
Then in a blender jug, add the cream cheese, sour cream, mayonnaise, green onion, herbs, salt, and black pepper.
Blend them well to combine all the ingredients. Then shift the sauce into a bowl and enjoy your crispy broccoli with it.
Expert Tips For Cooking Air Fryer Frozen Broccoli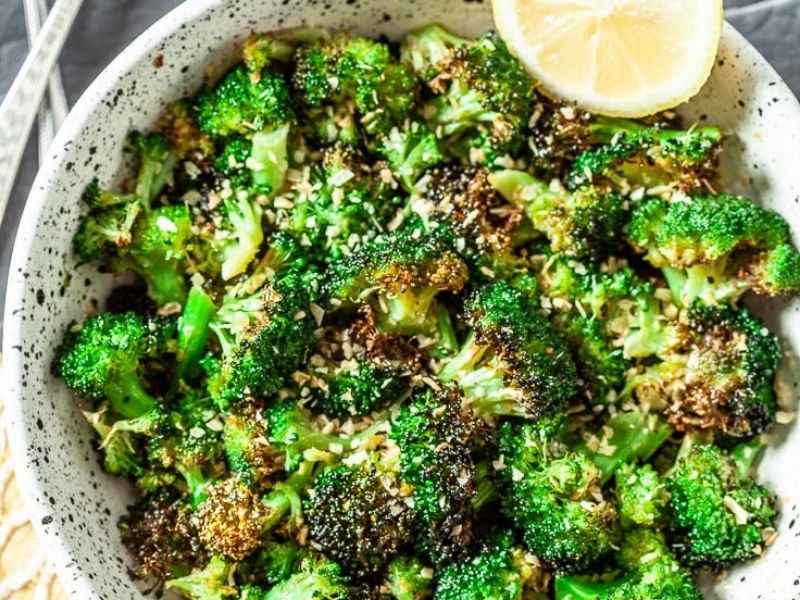 The spice choice is completely up to you. If you want, you can add more spices and more flavor or keep the dish simple with salt, and pepper.
Avocado oil is preferable while cooking at high temperatures as it adds nutrition and a high smoky flavor.
Don't thaw the frozen broccoli, cook it directly in the air fryer.
You can adjust the cooking time, it can be less or more than recommended. It depends on how much you like the crispiness. But 20 minutes of cooking in the air fryer brings out insanely crispy and golden brown broccoli.
My Recommended Air Fryers to Cook Frozen Broccoli
You can easily pick one from the below mentioned 3 air fryers to cook frozen broccoli in a perfect manner by maintaining the above mentioned procedures.
FAQs -How to cook frozen broccoli in air fryer
What is the healthiest way to eat frozen broccoli?
Air frying is the healthiest and most delicious way to eat frozen broccoli. It simply makes a tasty and flavorful dish.
On the other hand, if you cook the frozen broccoli in the microwave or steam them, the flavor gets bland and mushy and it ends up dousing the broccoli in unhealthy sauce to make it tasty.
Crispy air fryer broccoli is insanely flavored and everyone loves it.
How much time does it takes to cook frozen broccoli in the air fryer?
You can quickly cook the frozen broccoli in the air fryer. It only requires about 15 to 20 minutes for a crispy and golden brown outcome.
As you don't need to thaw it first, it is not a time-consuming task. If you want a steam-like texture, then lessen the time of air frying.
How do I keep the broccoli from burning in my air fryer?
When you use powdered seasoning, most of the time the broccoli burns in the air fryer. To prevent burning, add just a little water to the bottom of the basket of the air fryer. It helps to keep the broccoli tender, and crispier outside and prevents burning.
How do you steam broccoli in an Air fryer?
You may eat crispy broccoli using the air fryer, but you also can make steam broccoli in it.
After placing the seasoned broccoli in the basket, you need to set the air fryer to 300°F/150°C and cook them for 10 minutes. Shake the broccoli in the basket every 5 minutes and enjoy hot.
Conclusion
Many people freeze veggies for convenience. But while roasting or steaming, they get soggy. Nobody likes soggy vegetables, especially broccoli.
You can eat the frozen broccoli in the best way by using an air fryer. You can enjoy tasty, crispy seasoned broccoli cooking in the air fryer. We have provided you with step-by-step instructions in this article so that you can make a delicious dish for your family.