If you are a pizza lover, then you may desire a fancy pizza treat anytime. And frozen bagel bites are the instant solution for you. These are immensely popular with children as well as adults. However, cooking and eating bagel bites become more effortless with an air fryer. You will get perfectly cooked bagel bites with a great crunch.
Bagel bites are the healthier alternative to pizza. They come with lots of flavors that you can imagine on your pizza topping. An air fryer can make your home a crowd-pleaser in a super-easy way. That's why we have come up with the recipe to cook bagel bites in air fryer.
Why use an air fryer for cooking bagel bites?
Nowadays, an air fryer is the most helpful kitchen appliance. It is used to cook mostly deep-fried recipes like potato fries, chicken, fish and so on. Hot air is circulated inside the air fryer, which cooks the food with a crunchy, crispy exterior.
It is a great and healthy alternative to deep-fried food. An air fryer cooks food with just a tablespoon of oil instead of deep-frying and gives the same texture and taste. It helps to lower the calories and fat content, and you can enjoy fried food without any worry. There are numerous types of air fryers. Nonetheless, if you have narrow funding, you can get an affordable air fryer.
Bagel bites are mostly cooked in the microwave. You can use the air fryer and cook the bagels at the same time. However, it will add a little crispy crust with soft toppings. If you like the crispy crust, then using an air fryer will be your best choice.
How to cook bagel bites in air fryer?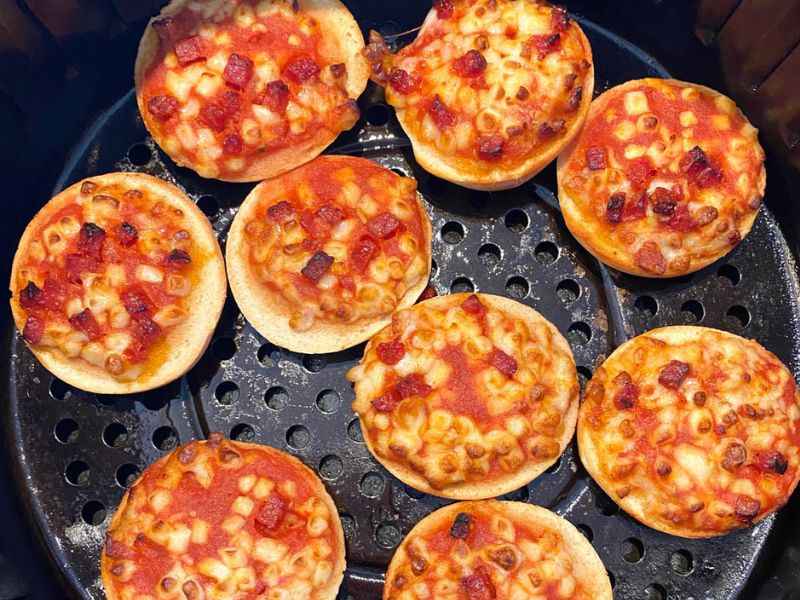 Air fryer bagel bites are a quick and easy after-school snack or dinner. It will be ready in only 10 minutes.
| | | |
| --- | --- | --- |
| Prep time | Cook time  | Total time |
| 3 min | 7 min | 10 min |
Serving people: 2 
Calories: 995
Ingredients for cooking frozen bagel bites
You can cook frozen bagel bites in an air fryer real quick. With minimal ingredients, you can prepare it. You will need:
Frozen bagel bites
Some olive oil spray
Air fryer
Make sure the olive oil spray that you are using is propellant-free type; otherwise, it can damage the air fryer's non-stick finish. However, you can use any type of cooking oil if you prefer.
Steps to cook bagel bites in air fryer
Step 1: First, lightly spray olive oil on the crisper plate (if your air fryer has one) or the bottom of the air fryer basket.
Step 2: Now, preheat your air fryer for 3 minutes, and the temperature will be 350° F.
Step 3: Place the frozen bagel bites in the air fryer and cook them for 5 to 7 minutes.
Step 4: After the time, check if they are golden brown. Then remove the air fryer basket in a proper way.
How long do frozen bagel bites take in an air fryer?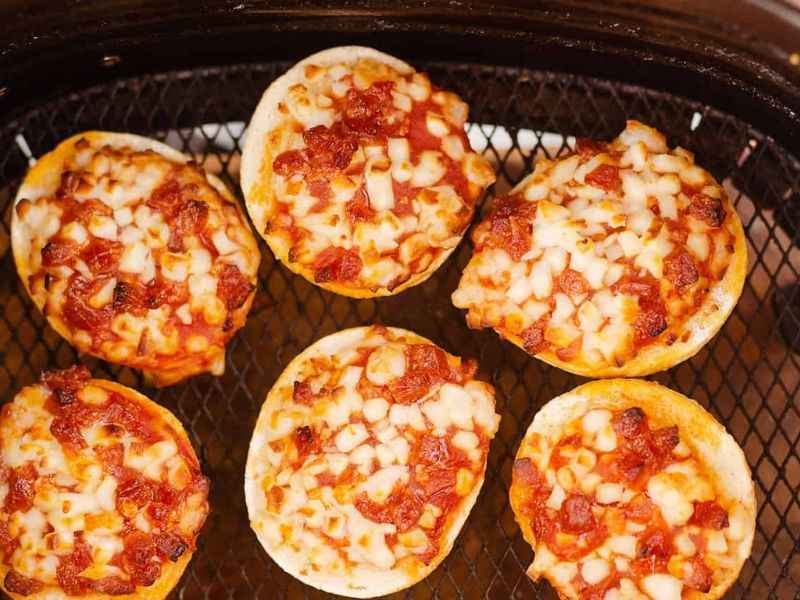 To cook the frozen bagel bites in an air fryer takes 5 to 7 minutes once it is preheated to 350° F. If you don't preheat the air fryer, it will take 10 minutes or more. But whenever you are cooking, don't cook iced bagels; let them thaw. After bringing them out from the refrigerator, wait for 5 to 10 minutes before putting them in the air fryer.
How to make homemade bagel bites?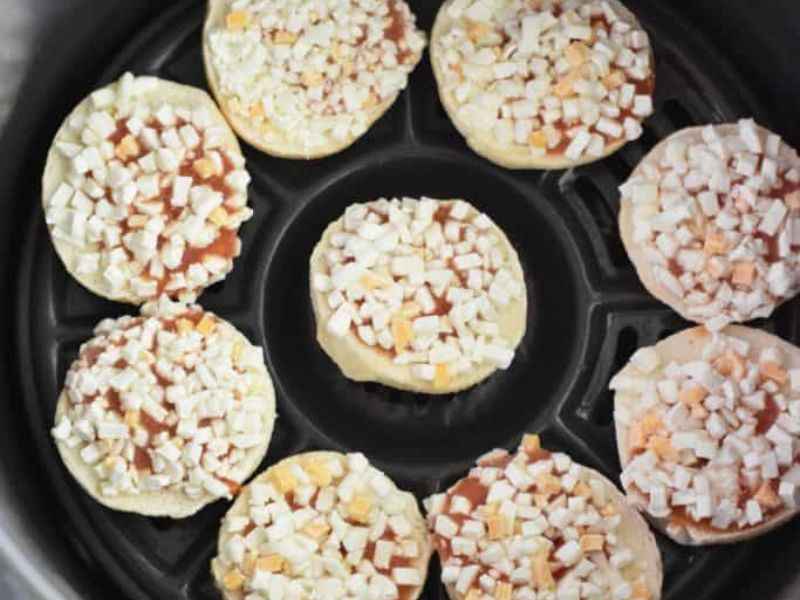 There are many brands that offer tasty frozen bagel bites. But homemade bagel bites are always much better than processed food. Moreover, you can prepare the bagel bites, enjoy fresh or store them by freezing. It lets you enjoy delicious snacks anytime. You need a few ingredients to make homemade bagel bites.
Ingredients 
Mini bagels
Pizza sauce
Pepperoni
Shredded mozzarella cheese
Instructions to make homemade bagel bites
Step 1: You need 3-4 full-sized regular bagels. Cut them in half and down on a flat dish.
Step 2: You can take store-bought pizza sauce or use your own homemade pizza sauce. Smear a spoonful of pizza sauce on top of the bagels. Spread them evenly on the top of the bagels.
Step 3: Now, drizzle the bagels with shredded cheese. Here you can use any type of cheese like mozzarella, cheddar, provolone, etc., whatever your favorite is.
Step 4: Add your favorite toppings. Pepperoni is the best choice, but you don't need to stick with it. You can use your most-liked one. If you are vegan, olives, jalapenos, or baby tomatoes will be perfect.
Tips: 
Don't use multiple layers of toppings; it won't cook all the way. Stick with one layer of cheese and one topping.
You can use garlic butter to add more flavor.
Keep them in an airtight box and store them in the freezer.
What to serve with Bagel Bites?
You can serve the bagel bites with various types of dips or salsa. Cream cheese dips are often sever with bagels. It is simple to make the dips. Softened cream cheese is the main ingredient.
You can add scallions, paper, and a little bit of water for preparing the dip. Mash all things together with a fork and you can enjoy the dip with the bagel bites.
How to store and reheat Bagel Bites?
After enjoying a delicious meal, you should not throw away the leftovers. You can wrap or keep the leftover bagel bites in an airtight container and store them in the refrigerator. Bagel bites can be stored for up to three days in the refrigerator.
When you want to eat them, reheat the bagel in the air fryer at 350° for a couple of minutes until the bagel is warmed throughout.
Expert Tips for making frozen bagel bites in air fryer: 
You should not cook thawed bagel bites. Bring them out before cooking and let them cook from frozen.
Always cook frozen bagel bites in a single layer in the air fryer. You should not be overlapping them; otherwise, they won't cook perfectly.
Check the air fryer in the mid-time of cooking to see if the cheese is getting burned.
When you are cooking frozen bagel bites in multiple batches, then reduce cooking time by 1 or 2 minutes for the following batches.
Frequently Asked Questions (FAQs)
Are bagel bites good in the air fryer?
It is the best way to cook bagel bites with an air fryer. It helps to prepare and cook them within a few minutes. They come with an original taste with a crisp crust.
Do you have to preheat an air fryer?
In most cases, preheating is necessary to cook in the air fryer. If you want the signature crispiness, then you should keep it in mind. However, when you are cooking frozen foods like bagel bites, you better preheat the air fryer to get the right texture.
Can you apply butter instead of oil in an air fryer?
Yes, you can use butter instead of oil in an air fryer. Butter also has an oily substance, and it is a great alternative to any kind of oil. In fact, it increases the flavor of your food.
Can you put foil in an air fryer?
You can use foil paper on the air fryer. But be careful about it. Don't cover critical machinery parts with foil, as it can damage the air fryer and the food won't cook evenly. Just use a small amount of foil at the bottom of the basket.
Conclusion
Bagel bites are tasty and healthy snacks, and an air fryer allows you to cook them instantly. They give quick satisfaction to pizza-craving.
However, you can use processed frozen bagel bites or homemade ones. And both types of them can easily cook with the air fryer. It is a useful component that allows you to cook a wide array of dishes.