Onion rings are the most popular side dish in any restaurant or barbecue party. But many people who follow the diet chart strictly often skip this dish as they are deep-fried. By reading our recipe how to cook frozen onion rings in air fryer you can prepare the dish easily and enjoy crispy, healthy onion rings. Of course, there is no deep frying required.
An air fryer is the best equipment to make frozen food to a crispy outcome. Moreover, the taste and crispiness are like deep frying. Whether you are making an instant snack for a party or giving a treat to your kids, these frozen onion rings will be the best idea. Get the recipe to cook frozen onion rings in air fryer.
How To Cook Frozen Onion Rings In Air Fryer?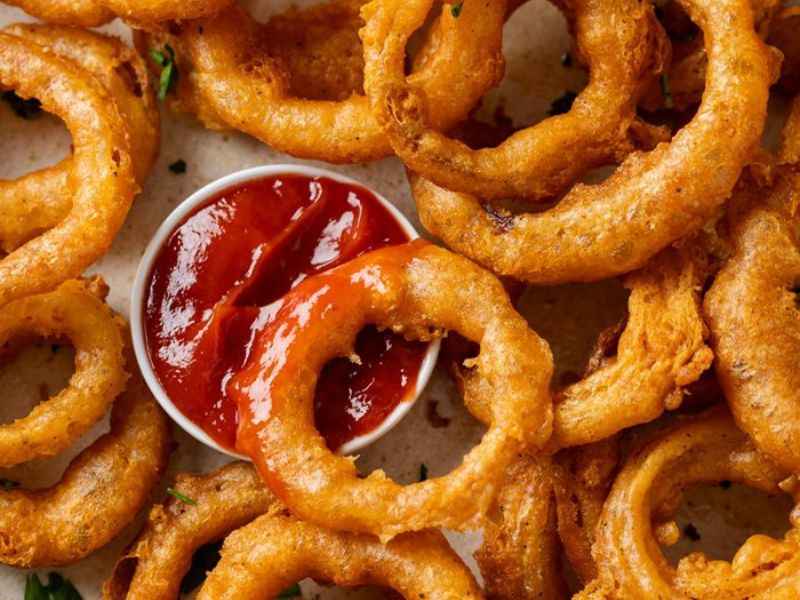 By using an air fryer you can make several tasty dishes and snacks like mozzarella sticks, fish fillets, chicken nuggets, potato fries etc. in a very convenient and perfect way.
Frozen onion rings are the easiest snack to make in the air fryer. They can be easily ready to eat whenever you want. You just need to grab a pack of the frozen onion of your favorite brand like Alexia Crispy Onion Rings.
| | | | |
| --- | --- | --- | --- |
| Serving  | Prep Time | Cook Time | Total Time |
| 2 | 3 min | 5 min | 8 min |
Nutrition (amount per serving):
Calories: 303,
Total Fat: 16g,
Sodium: 589mg,
Fiber: 2g,
Carbohydrates: 35g,
Protein: 4g,
Sugar: 4g
Ingredients 
Frozen Onion Rings
Salt, to taste
Pepper, to taste
Steps for cooking frozen onion rings in air fryer
Step 1: Set the air fryer to 350° and heat it for 3 minutes
Step 2: Place the frozen onion rings in the basket of the air fryer. Spread all the rings evenly, don't overlap them; otherwise, it won't cook perfectly.
Step 3: Sprinkle a pinch of salt and black pepper to add more taste. This is a completely optional step, and you may skip it. Onion rings do not need to be sprayed with oil.
Step 4: Air fries the frozen onion rings at 350 degrees for 5 min. Shake the fries about halfway through. If you have put a larger batch, then shake and gently stir multiple times.
Step 5: Check the onion rings and remove them if they are golden brown and crispy. Give an additional 1 or 2 minutes to get the desired crispiness.
Note : You can choose any of the best rated air fryers like Ninja AF101 4 Quart Air Fryer to cook air fryer onion rings.
Expert Tips To Air Fried Onion Rings
Do not thaw the frozen onion rings.
Don't need to spay oil.
In case you are cooking multiple batches at the same time, then the following bathes will cook a little faster. So keep an eye on timing.
Allow more cooking time if you put a large number of rings at once.
Some brands of onion rings recommend spraying oil for air frying, or they go dry.
How Much Time Does It Need To Cook Frozen Onion Rings?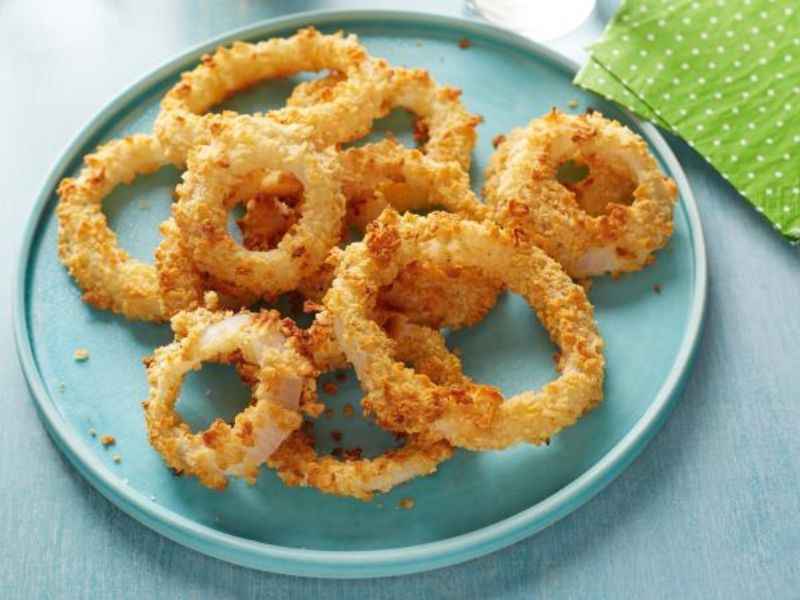 There are a few things that influence the cooking time of the frozen onion rings. Because frozen onion rings of different brands come at various sizes, thickness, and different coating. So, according to the size, you need to adjust the timing.
Moreover, the size of the air fryer also impacts the cooking time. If you overcrowd a small air fryer, it will take more time to cook. As you fill-up the basket, you'll need to shake it more frequently to ensure they cook evenly. For larger air fryers, you can cook more in one batch. The brand of the air fryer also manipulates the timing.
However, if you preheat the air fryer to 350 degrees, then you must cook the onion rings for 5 minutes at the same temperature.
How to reheat air fried onion rings?
Sometimes you may overestimate how much your family could take. It is quite natural. So there may be some onion rings left on the serving bowl. Thankfully, an air fryer helps to heat up the food with similar crispiness.
To reheat the air fried onion rings, you need to preheat the air fryer to 350 degrees. Then put the fried onion rings in the basket and cook for 2-3 minutes. When you are reheating them at a lower temperature, they will warm from the inside without getting too crispy and burnt.
While reheating the onion rings, often they get too dried, so you need to spray some oil on them, and it works amazingly. It will bring moisture as well as crispiness.
What to serve with air fried onion rings? 
Without a dipping sauce, the fried onion rings get bland. A perfect dipping sauce blasts its flavor. Simply ketchup is also good enough for fried onion rings. Moreover, you can use ranch dressing, cocktail sauce, and tartar sauce with crispy onion rings. However, now we will share a recipe for a dipping sauce that is popular to serve with the air-fried onion rings.
Ingredients 
½ cup mayonnaise
2 tablespoons cream-style horseradish sauce
1 tablespoon ketchup
⅓ teaspoon paprika
⅛ teaspoon dried oregano
⅓ teaspoon cayenne pepper
1 pinch of ground black pepper
¼ teaspoon salt
Instruction 
Take a small bowl and add all the ingredients. Whisk them well and serve with your fried onion rings.
How to make homemade frozen onion rings?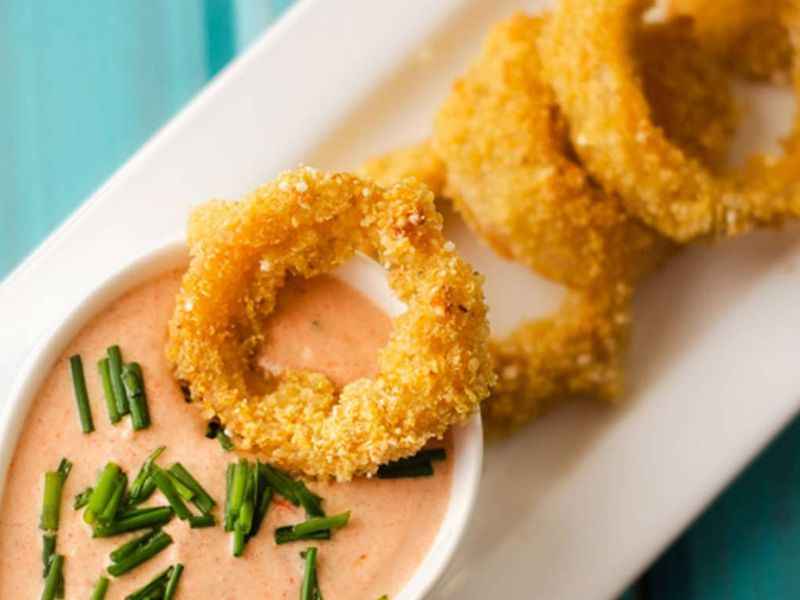 Homemade onion rings are simply coated with a wet batter, tossed, and deep-fried in hot oil. You can not use the air fryer for homemade onion rings. So if you want to make the frozen onion rings, then follow the recipe below:
Cut the onion into rings and break them up
Coat each ring in flour
Dip the rings in whisked egg
Then again, coat with breadcrumbs
Place them in a tray and keep them in the freezer.
Then air fries the onion rings.
Tips: You need to spray oil while air frying the homemade onion rings.
Frequently Asked Questions
How much temperature do you need to cook onion rings in an air fryer?
As we said earlier, cooking time and temperature depend on the thickness of the onion rings. If you use high heat, it may burn them. Typically, you can use 350 degrees in the air fryer to get crispy onion rings without burning.
Do I need to spray oil to cook frozen onion rings?
Most brands don't recommend spraying oil while air frying the onion rings. But a few prefer to spray oil as they get dried. But you should not use PAM cooking spray as it can damage the air fryer.
Is olive oil spray suitable for my air fryer?
While cooking food under 400 degrees in the air fryer, then olive oil spray works fine. You can use it for any fried recipes.
Conclusion
Onion rings are a delicious, staple snack in every house. You can easily cook frozen onion rings in the air fryer.
Air Frying onion rings brings the exact texture, taste, and crispness that you had in the restaurants. Moreover, serve with onion rings dipping sauce for adding more flavor.