Frozen popcorn chicken is so yummy and easy to cook with an air fryer. On the other hand, you won't need any prep at all!. You can cook any frozen popcorn chicken amazingly crispy in the air fryer. For this, you need to know how to cook frozen popcorn chicken in air fryer. Doing so, you get all that delicious crunch without any of the excess fats from frying.
Popcorn chicken is tiny pieces coated with bread crumbs quite similar—small chicken nuggets.
Today we have come up with a mouth-watering recipe for frozen popcorn chicken in an air fryer. Follow our recipe to enjoy the best-fried popcorn chicken.
Why use an air fryer for cooking popcorn chicken?
The
best rated air fryers
cooks the chicken and gives the bread the perfect crunch without extra oil. It's our favorite way to cook frozen popcorn chicken, and you'll probably like it too.
Plus, it saves many calories than if you fry them in cooking oil. People who follow strict diets but crave fried foods can try this recipe in an air fryer. This way, it is healthier to eat, and you get to enjoy your favorite food.
How to cook frozen popcorn chicken in air fryer?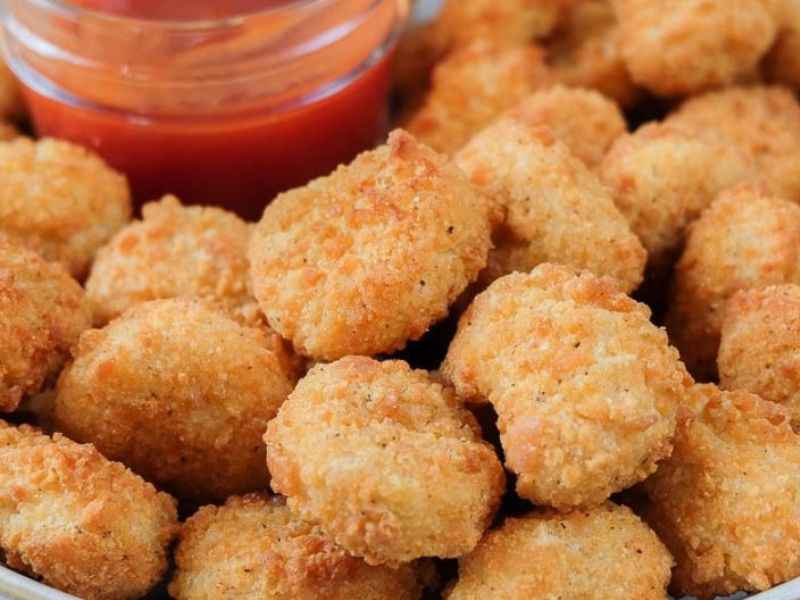 When you cook frozen popcorn chicken in an air fryer, the outside gets crispy, and the inside stays soft. Using an air fryer, you can make frozen popcorn chicken in less time than it takes to bake or deep-fry them. A regular air fryer or an Instant Pot air fryer can be used to make this recipe.
Ingredients
One pound of frozen Popcorn Chicken: To air fry all of this chicken, you'll probably have to work in batches.
Sauce for Dipping: Use your favorite sauce for dipping here! Popcorn chicken tastes great with BBQ, honey mustard, buffalo, or even sweet chili sauce.
Steps To Follow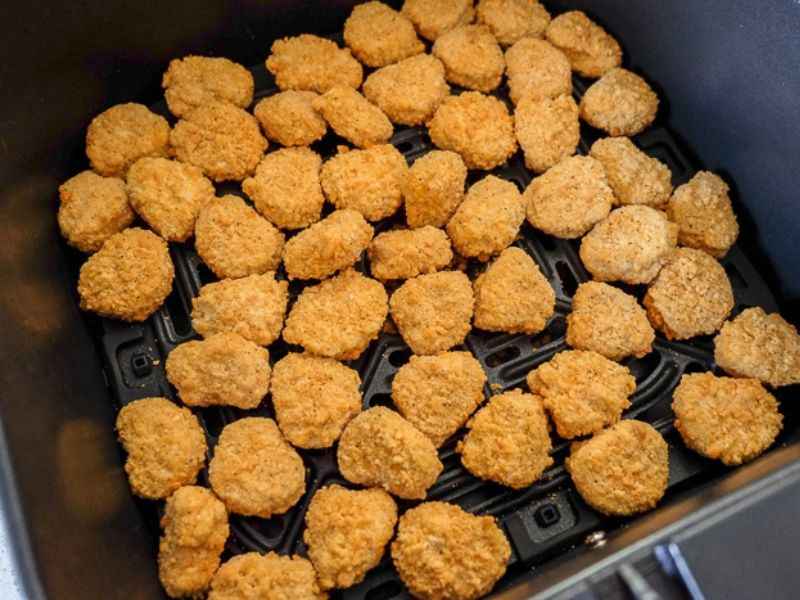 Step – 1
Heat the air fryer. Start by putting your air fryer on 400°F (205°C) to prepare it (See Note). Once your air fryer is ready, place 1 pound of frozen popcorn chicken in a single layer in the basket, so it cooks evenly.
Step – 2
Cook popcorn chicken in the air. Once all the chicken is in a single, even layer, cook the popcorn chicken at 400°F (205°C) for 10 minutes. Make sure to stop and shake or flip the chicken halfway through. When the chicken is done, take it out of the air fryer. Let it rest for 2 minutes, and serve it with your favorite sauces for dipping.
Step – 3
You don't have to, but you can add more seasoning after cooking while they are still hot. Try a sprinkle of seasoned salt, garlic powder, or even cayenne pepper for more flavor.
| | | | |
| --- | --- | --- | --- |
| Prep time | Cook time  | Rest time | Total time |
| 3 min | 10 min | 2 min | 15 min |
Notes
Cooking time can change depending on what brand of popcorn chicken you buy and what air fryer you have.
You don't have to spray the chicken with oil or take the popcorn chicken out of the freezer first. Just put the frozen chicken straight into the air fryer.
Nutrition value 
Calories: 369kcal (18%) | Carbohydrates: 42g (14%) | Protein: 18g (36%) | Fat: 14g (22%) | Saturated Fat: 2g (13%) | Polyunsaturated Fat: 11g | Cholesterol: 80mg (27%) | Sodium: 346mg (15%) | Fiber: 2g (8%) | Sugar: 2g (2%)
Some Pro Tips For Crispy Fried Popcorn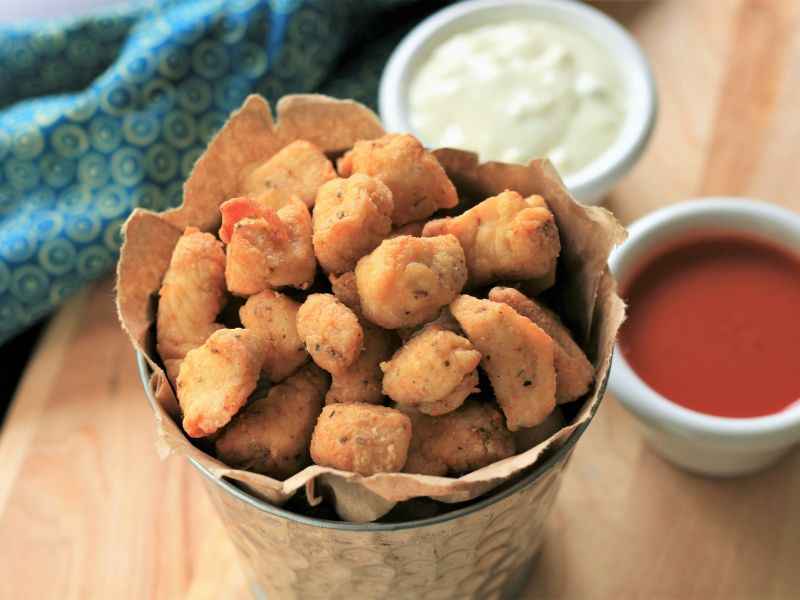 Get the air fryer hot. To prepare your air fryer, turn it on to 400°F (205°C) . Once your air fryer is ready, put 1 pound of frozen popcorn chicken in the basket in one layer so it cooks evenly.
You can make the chicken even crunchier; wait a few more minutes. If you like your popcorn chicken to be extra crispy and crunchy, add an extra minute or two to the total cooking time.
If you have more food for frying, add the popcorn chicken in batches so you don't overcrowd the air fryer, making the chicken less crispy.
How to store and reheat fried popcorn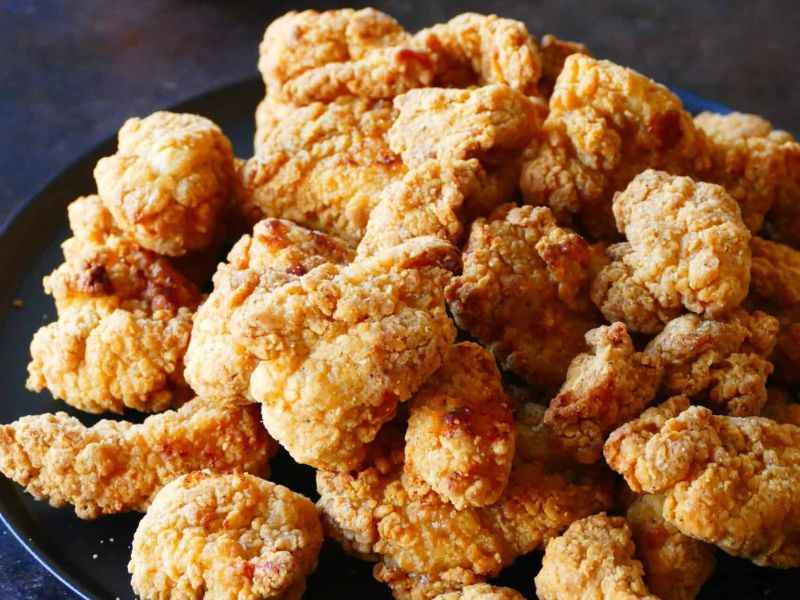 Leftover frozen popcorn chicken can be kept in a container or bag that holds air out for three to five days. But make sure to keep it in the fridge. However, the longer it sits, the harder it will be to get it crispy again.
You can use the air fryer to reheat popcorn chicken that has already been cooked. Set your air fryer to 400°F (205°C), then spread out the popcorn chicken in an even layer and air fry for five to ten minutes, or until the pieces are crispy and hot all the way through.
What to serve with air fryer popcorn chicken
It is best served with a tangy dipping sauce, like plum sauce or sweet and sour sauce. This way, it makes a great start to a meal.
If you want to eat popcorn chicken as part of a bigger meal, you can always make another side, like frozen waffle fries or even homemade French fries.
FAQs – how to make popcorn chicken in air fryer
Do I need to oil the basket of the air fryer?
In this recipe, you don't need to use any oil in the air fryer. Well, many prefer to spray some oil to have a better outer texture and be crispier. If you don't want to add oil, then it's totally okay.
How long do I have to air fry popcorn chicken?
Cook them at 400°F for about 10 minutes, shaking the basket once after 5 minutes. If you make twice, thrice, or more batches, then cook them for less than 15 minutes. 10 to 12 minutes will be enough to get perfect popcorn chicken.
Can I use an instant pot air fryer for frozen popcorn chicken?
You can use the same time and temperature with the Instant Pot air fryer. You will get the same crispiness and juiciness of popcorn chicken.
Conclusion 
Frozen popcorn chicken is a tasty and healthy snack that can be made quickly in an air fryer. You don't have to wait with a hungry stomach anymore.
You can use homemade frozen chicken in the air fryer. The recipe will be the same.
We hope you will try our recipe at home and enjoy your snacks time with friends and family.