To run your ninja blender longer than usual, it's necessary to know how to clean ninja blender. Of course, you don't want to regret throwing the machine away sooner than you thought it would last.
Hence, you better learn the correct procedures for cleaning dirt up from your ninja blender following these effortless methods. So, without further ado, let's jump right into it.
How to Clean Ninja Blender with 5 Working Techniques
Say, you have one of the best Blender like Ninja BL770 Mega Kitchen System and you are eager to know the right techniques to clean your precious kitchen appliance, then you should know all the effective methods for applying.
These are the methods that have been tried several times in cleaning ninja blenders, and each time they worked 100%.
Method 01# Using Dishwasher
This method is for those who already own a dishwasher and don't want to use their energy in cleaning up the ninja blender. Besides, each part of the blender is dishwasher-safe. So, it's actually a good idea to just let your dishwasher handle the job of cleaning your ninja blender for you.
Step 1. Loading Your Dishwasher
The first thing to do is load the dishwasher you have with uncleaned plates, glasses, spoons, and of course, the ninja blender.
Step 2. Putting the Dish Cleaner
Put some of the dish cleaning liquid or powder into the place where your dishwasher requires it.
Step 3. Starting the Machine
Now, start the machine after closing the door since you don't need to add water. A rinsing agent should clean up all your dishes, including the blender, without water. When the machine completes removing dirt, it will notify you.
Method 02# Self-Cleaning
It's another outstanding option for cleaning the ninja blender. This time we will make the blender clean itself. Let's learn how.
Step 1. Fill it With Warm Water
To begin with this method, get some warm water and fill half of the jar of your ninja blender.
Step 2. Add Dish Cleaner
Whether powder or liquid dish cleaner, whatever you have, pour a little into the jar.
Step 3. Turn On the Blender
Before turning your blender on, ensure to close it well with the lid. Now, turn the device on and operate it with either high speed or medium mode. The ninja appliance blending will spread the warm soapy water throughout the whole jar and blades, resulting in removing food residues. After a while turn it off and rinse it properly with clean water.
Method 03# Clean By Yourself
Suppose you don't have a dishwasher, then you clean dishes on your own. Honestly, cleaning things yourself brings better results than cleaning them in a machine. Also, when you clean anything with your hands and put in some effort, the product gets perfectly cleaned. You can clean it just like you clean up all other kitchen appliances.
Method 04# Using White Vinegar
The distilled white vinegar is a natural dirt remover. Using it, you can clean up filth from almost anything, whether from fabric or other materials. The cleaning process with it becomes super easy.
Step 1. Mixing Vinegar With Water
Take some water in the pitcher (two cups at most). Pour one cup of distilled white vinegar as well and mix them well.
Step 2. Pulse the Solution
Close the lid and vibrate the blender in a way so that the vinegar solution reaches every place in the jar and blades.
Step 3. Wait for Hours
After pulsing the blender, let the vinegar mixture sit inside for hours for the best results. The vinegar will create acid, and the acid will eat up the mess.
Step 4. Rinse
Rin the jar well under cold water until all the dirt is removed along with the vinegar.
Method 05# Cleaning With Magic Eraser
It's a cleaning sponge famous for eliminating deeper dirt. It's made of melamine foam which is sticky enough to remove the filth. It's also rough like sandpaper; however, this roughness is for removing dirt, not for hurting your products.
Step 1. Dampen
Take the magic eraser and soak it in water. Remove excess water by squeezing it and wiping it over the stains. Keep wiping the entire blender until you see the dirt has completely vanished.
Step 2. Clean With Water
Clean the ninja blender underwater and let all the filth out of the pitcher.
Step 3. Air Dry It
Do not try to remove it from the blender by wiping it with tissue or other clothes; let it air dry.
Pro Tips To Clean Ninja Blender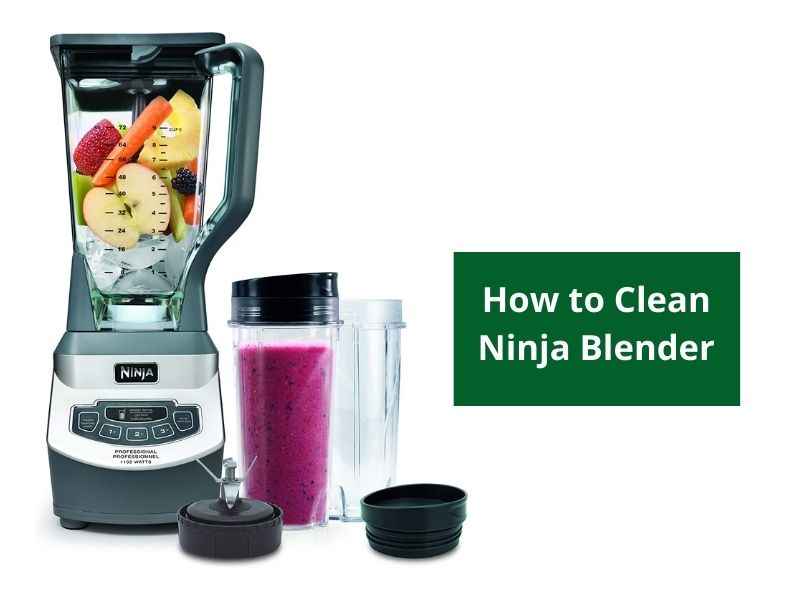 Remember, if the dirt inside your blender gets hardened, you better pour some hot water with dish liquid and keep it that way the whole night. You'll see the tough messes have softened and come off in the morning.
Later, following any techniques, you can clean your ninja blender perfectly. Hopefully, it will look as new as before.
FAQs About How to Clean Ninja Blender
How do you disassemble a ninja blender?
Removing parts of a ninja blender is super easy. The first thing you need to do is turn the jar clockwise once. Then gently take it off of the base. Now carefully check the lid; there should be a release button. Press that, and the lid will be unlocked.
In this way, within a few seconds, you can disassemble the blender.
Is ninja a good blender?
Ninja blenders have achieved popularity because they are too good at doing their jobs. The build quality is outstanding. Usually, they are made of high-quality plastic, so they feel sturdy and solid.
How long should a ninja blender last?
Ninja blenders are constructed well with high-end technology and superior-grade materials. Hence, even if a person uses the blender regularly, it should last for 2 to 3 years.
Is it easy to clean a ninja blender?
One can clean a ninja blender in several ways. Each way is effective and, most importantly, simple to follow. Besides, you can remove any strong or weak dirt with the common cleaners following our methods.
Ninja blender is an essential part of our life since it allows you to blend various foods and eases your food making. Sadly, many still don't know how to clean ninja blenders.
So, we were here with the guide "how to clean ninja blender with 5 working techniques." You can approach any of the methods mentioned above because all of them will work to clean your blender completely.