Ninja blenders are truly the Ninja of a kitchen. You can make an array of smoothies with this fine appliance. These blenders are versatile, powerful, and efficient. 
Smoothies are one of the popular uses of these blenders. However, following the right procedure for how to make a smoothie in a ninja blender is significantly crucial.
Undoubtedly, you could use any blending appliance to prepare smoothies, but the delicious item is only confirmed with Ninja blenders.
Why Are Ninja Blenders Worth Preparing Smoothies?
A wide range of features is used in Ninja blenders to prepare a delicious smoothie. High-quality pitcher, dishwasher-friendly materials, multiple spacious containers, and protective lids allow you to prepare smoothies in bulk. Also, due to the large container, storing smoothies becomes much easier.
Pre-programmed settings are another impressive feature of Ninja blenders. This feature helps automatic adjustment of the speed, helping you produce food that's been minced or chopped down into precise sizes. It is a great feature for making yummy smoothies.
While blenders from Ninja are impressively versatile, another feature that helps them deliver better performance is pulse blend technology. You can control the power and speed effortlessly with the help of this feature.
All these features perform together to give you a full-flavored smoothie every time. More importantly, you will never find pieces or chunks in them. If you are a smoothie lover, a Ninja blender like Ninja Foodi SS351 Power Blender will surely be a great deal.
How to Make a Smoothie in a Ninja Blender with Easy Steps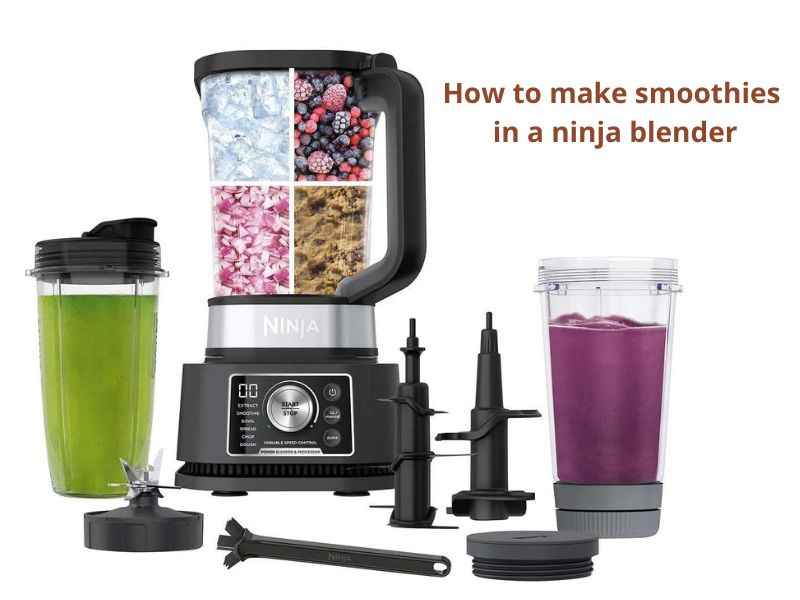 Different innovative features of the Ninja blender let a consumer prepare a tasty smoothie. However, you also need to learn the process of using these blenders. Read the below steps carefully.
Step 01: Adding Base Liquid
The base liquid of your smoothie can be juice, milk, water, yogurt, condensed milk, pureed fruit, etc. Choose according to your taste.
Thinner base liquids work best with Ninja blenders because they move through the blades without trouble. Moreover, thinner liquids don't get stuck to the pitcher's wall.
Enough liquids need to be poured into the jar. Fill up halfway up the pitcher.
Step 02: Adding Fruits and Vegetables
Leafy greens and fresh or frozen fruits are the best solid ingredients for smoothies. Add as many solid ingredients as you like depending on your desired taste.
Remember, vegetables like kale, spinach, etc., take more time to blend than fruits. For this reason, add them to the liquid base at the beginning of the blending process. On the other hand, fruits don't take much time to blend. Even frozen fruits are easy to blend So, you can add them halfway through the blending process.
If you love a cold and thicker textured smoothie, add a few ice cubes while blending. You will get a thicker texture smoothie when it comes out of the jar.
Step 03: Add Protein Item
In order to make your smoothie vitamin-rich, add protein items. Milk, yogurt, cheese, beans, fish, tofu, meats, soymilk, etc., are great protein sources. 
Dairy products must be added to the smoothie when the blades are covered with base liquid. Thus, ingredients will not stick to the side of the jar.
Step 04: Start Blending
Don't rush; start blending at low speed. Continue the low speed for the first 20 – 30 seconds and then gradually increase the speed. Blending needs to be continued until the smoothie reaches your desired consistency. Roughly 1 minute is good enough time to get a smooth drink.
Some may advise you to continue blending the smoothie for 60 seconds once the liquid covers the blades. But it is unnecessary.
Step 05: Pour & Taste the Flavorful Smoothie
Grab a glass and pour the smoothie into it. You can add toppings such as chocolate, granola, or fruit according to your taste, then drink it.
If you want to store the smoothie, pour it into an airtight container. You can refrigerate it for a maximum of 24 hours. The smoothie's taste will be reduced if you store it for more than 1 day.
Meanwhile, saving the leftover smoothies for many days is also possible. All you need to do is freeze them in serving-size freezer bags. Thus, you can enjoy the smoothie again another day.  
What Smoothies Can I Make in Ninja Blender?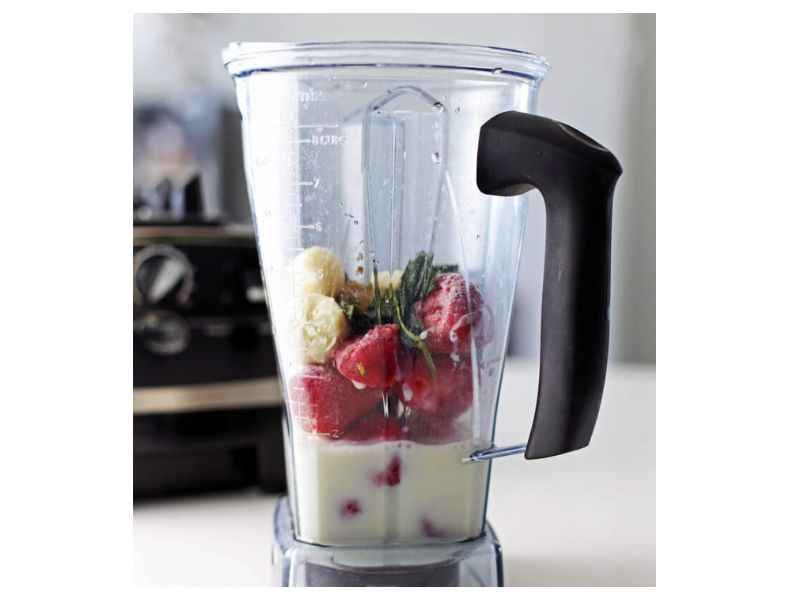 Here are a few smoothies that can be prepared in Ninja blending. Try one or try all – I believe you will enjoy all the smoothies while tasting.
1. Healthy Leafy Smoothie
When you need to boost your immunity, leafy or green smoothies are one of the best choices. This nutritious smoothie will be impressively tasty after preparing in a Ninja blender.
2. Orange Smoothie
You can relieve daily stress by drinking a glass of orange smoothie. This breakfast staple is fun to make and healthy at the same time. Your whole day's stress will simply go away after having this smoothie.
3. Sunrise Smoothie
It is a perfect breakfast drink for sure. This smoothie combines sparkling fruits, green or leafy vegetables, and a small amount of caffeine. You will get the required energy for a whole day. Moreover, it will help you start your day right.
4. Pineapple Strawberry Kale Smoothie
Try this smoothie when you want to play with your flavor. Ninja blender will provide smooth drinks when you combine pineapple, strawberry, and kale. You can take it whenever your pallet prefers.
5. Almond Joy Smoothie
Don't think smoothies must be green or prepared using fresh fruits every time. Almond joy smoothie will give you a different taste and boost your energy.
6. Blueberry Smoothie
This smoothie can be a part of your "healthier year" goal. Blueberry is enriched with different vitamins, and its smoothie will give you a feel full and satisfied. Simultaneously, you will get good energy.
7. Tropical Carrot Smoothie
Many people think that preparing a carrot smoothie is difficult for the hard nature of this vegetable. Happily, the Ninja blender smooths all vegetables easily and provides a nutrient-rich smoothie
8. Cherry Spinach Smoothie
Several fruit smoothie recipes don't have a cherry on the list. Cherry spinach smoothie will give you a different taste while providing the necessary nutrients and vitamins to let you feel fresh.
9. Gingo Ninja Smoothie
This is an incredible smoothie that you must try. It combines ginger, avocado, dates, cashew, and coconut milk, making it a nutrient powerhouse. Drinking it can boost your immunity and energy and improve health and longevity.
10. Chocolate Berry Ginger Ninja Smoothie
This smoothie is served in a bowl instead of a glass. It includes daily greens and fruits. You can also add toppings according to your preference and consume with a spoon. Sounds different, right? Try it without fail.
How to Fix a Common Smoothie Problem?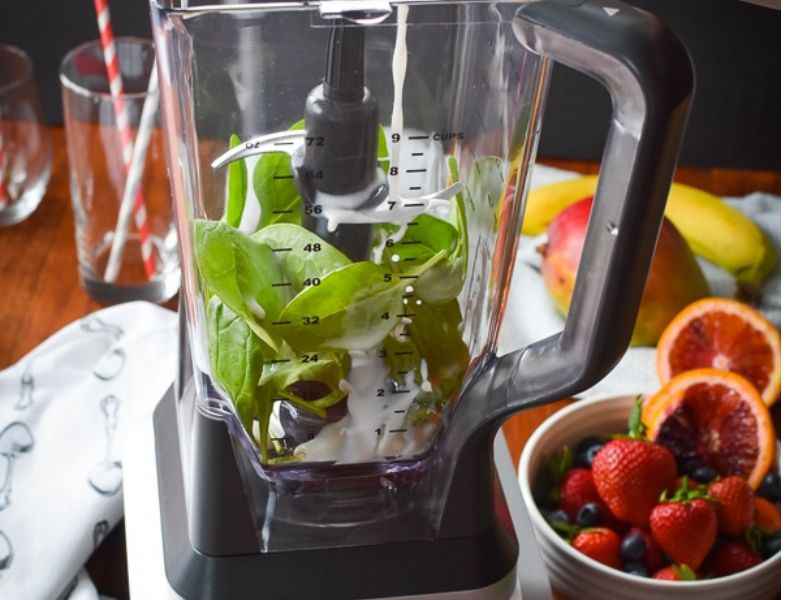 When preparing a glass of smoothie, problems like too thick or too thin can happen. Happily, these problems can easily be solved by following some quick tricks. Below, I shared a few tips to avoid common smoothie problems.
Too Thick: Add a little base liquid. Remember not to add different liquids than the base liquid. It can ruin the taste and flavor.
Too Thin: Adding frozen fruits, frozen yogurt, ice, fruits, and vegetables will help you minimize the thin texture of the smoothie.
Too Bitter: Pineapple, strawberries, a small amount of vanilla extract, flavored protein powder, and unsweetened cocoa powder can mask the too-bitter problem.
Too Sweet: Every fruit has its own sweetness. If your smoothie tastes too sweet, add frozen lemonade or lemon juice.
Less Sweet: A little sugar, maple syrup, honey, agave, and grapes will sweeten a smoothie. Avoid adding too much of these items because a little sweetener goes a long way.
Less Creamy: Avocados will add creaminess to a less creamy smoothie.
Right textured smoothie requires a good balance of solid and liquid ingredients. You can play and experience your taste by adding different fruits and vegetables to the smoothie.
FAQs about how to make smoothie in a ninja blender
Are Ninja blenders good for smoothies?
Many innovative technologies like pulse blade technology, pre-programmed settings, adjustable speed, etc., makes the Ninja blender a good choice for the smoothie.  
 
Can I blend ice in my Ninja?
Icy smoothies are fantastic to have on summer days. For this reason, many people wonder whether their Ninja blender can blend ice. The straightforward answer is YES. While many other blenders can't blend ice for Ninja blenders, ice is absolutely fine.
Can you prepare smoothies with milk using a Ninja blender?
Different dairy products or milk is a common ingredient in smoothies. Ninja blender is such a great kitchen appliance that tackles heavy liquids like milk. Preparing smoothies with milk using a Ninja blender will never be an issue.
Can Ninja blender prepare smoothies of frozen fruit?
Ninja blenders are so powerful that they can handle frozen fruits quite easily. In fact, you can make smoothies of any ingredients with these blenders. It can do all types of smoothies, whether it is frozen or fresh fruits.
Final Words
Pack your diet by consuming a glass of smoothie made from vegetables and fresh fruits. Smoothies are beneficial for your health, and you will require a blender like Ninja to make them easily every time.
Hopefully, after reading this guide on how to make a smoothie in a Ninja blender, you can taste your best smoothie whenever required. Make sure to follow the exact recipe as long as you use the fresh items. At the same time, ensure maintaining the manufacturer's recommendations while using blenders to expand this superb kitchen appliance's life.