Deciding between Powerxl Air Fryer Grill vs. Emeril Lagasse 360 is tough because both have impressed customers with beneficial and innovative features.
Heating elements, including accessories, ease of cleaning, and noise level, are the prime differences between these to-rated air fryer ovens. They also have some similarities, like output wattage, material, and many more.
Before deciding on an air fryer oven, read this comprehensive guide attentively to know which makes indoor grilling easy.
Comparison Chart – Powerxl Air Fryer Grill vs. Emeril Lagasse 360
The below comparison chart shares the key differences between the Powerxl Air Fryer Grill vs. Emeril Lagasse 360. Read them intently to get desired information.
| | | |
| --- | --- | --- |
| Parameters | PowerXl Air Fryer Grill | Emeril Lagasse 360 |
| Capacity | 4.54 liters | 930 cubic inches or 15.24 liters |
| Material | Stainless Steel | Stainless Steel |
| Output Wattage | 1500 | 1500 |
| Item Weight | 23.9 lbs. | 15 lbs. |
| Has Non Stick Coating | Yes | No |
| Is Dishwasher Safe | Yes | No |
| Dimension | 15″ (D) X 19″ (W) X 10″ (H) | 15″ (D) X 20″ (W) X 10″ (H) |
| Noise Level | Low | High |
| Number of Heating Elements | 3 | 6 |
Powerxl Air Fryer Grill Review
The Powerxl Air Fryer Grill is a top-quality product that gives you fried, crispy, and delectable-like foods every time. This unit can replicate all your favorite grilled foods with perfection. Crispy fries, perfect Panini, grilled veggies, etc., nothing it can't do.
Its cooking chamber features 2 shelves and a bottom rack, allowing you to prepare multiple foods at the same time. The unit moves food rapidly and significantly reduces the cooking time than a conventional oven.
In addition, this is a large enough air fryer with 4.8 qt. of capacity. You will get 4 – 8 servings at any time based on your cooking item. Moreover, the manufacturer claimed it would let you cook 10 lbs. of chicken.
Another important thing is you will need to properly space the foods inside the basket to get crunchy coated and perfectly textured food on every exposed surface. Also, this air fryer will give you perfectly seared steaks. The look and taste will be similar to restaurant quality for sure.
Impressively, it doesn't only make grilled meat but also can give you grilled veggies. It is a great air fryer for a wide range of vegetables such as eggplant, cauliflower, asparagus, squash, and many more.
Powerxl Air Fryer Grill will be a perfect choice if you want to enjoy flavorful slabs of marinated tofu.
Want to know what else it can prepare? Read below,
Perfect Panini
Grilled vegetables, including zucchini, bell peppers, and red onion
Char hotdogs
Pork chops
Sear steaks
Burrito
Kabobs of various ingredients
It means the PowerXL is not only a fryer; it can bake, rotisserie, reheat, toast, grill, sear, air fry, and bake, making it an 8-in-1 kitchen appliance. This is a multi-purpose air fryer, giving you delicious and flavorful food all the time.
Now, you might be thinking that any quality air fryer can deliver good results. But when you require preparing multiple food items, ideally spending less time, this air fryer is unbeatable.
More effective heated air circulation is another remarkable feature of this air fryer. For this reason, it cooks food faster and gives better crispier results than other air fryers.
The maximum temperature of this kitchen appliance is 450 °F. When cooking food at the highest temperature, the air fryer helps to develop a glorious charm on the food that is only found in authentic gourmet restaurants.
All the parts are made of quality stainless steel materials. Cleanup is also easy for its innovative design. You can effortlessly remove the trays and wash them with warm water. The manufacturer recommends hand washing.
Pros
Large 4.8 qt. of capacity with multiple trays
Maximum temperatures create perfect sear marks on the food
All the required accessories are included
Multifunctional air fryer with lots of controlling methods
Comparatively compact air fryer
Drip pans and trays are easy to remove for convenient cleaning
Built-in bell generates loud noise when the food is prepared
Fast and delicious air frying result
Meets the requirement of a home chef
Cons
The exterior of the unit gets hot like all other air fryers
Emeril Lagasse 360 Review
According to the advertisement, the Emeril Lagasse 360 is capable of deep frying, reheating leftovers, slow-cooking roasts, crisping French fries, etc. It means this is an all-in-one kitchen appliance that comes with 12 pre-set cooking functions.
Controlling the unit is super easy. You can choose any option from the 12 cooking presets without hassle. Also, overriding the temperature and preset time is effortless with the help of the incorporated dial. In fact, a beginner will be able to operate this unit efficiently after unboxing.
Let's look at the below points to know what it can perform,
Deep fryer
Convection oven
Toaster
Slow cooker
Microwave
Standalone air fryer
Toaster oven
Food dehydrator
It is an extra-large toaster oven having a stainless steel exterior and glass door. The unit requires some additional space to be stored on a countertop. The sleek stainless steel exterior attracts most customers and looks appealing when stored on a kitchen top.
The Emeril 360 also comes with intuitive controls, an easily readable LED screen, interior light, etc., to give you an excellent cooking experience. Moreover, the door's guide marking helps the user understand which rack height is suitable according to different cooking functions.
One of the biggest features of this air fryer is the 360° Quick Cook Technology. The unit features 5 heating elements on the top of the air fryer. Then there is a fan at the bottom. With the help of both features, the heat circulates evenly at different angles without trouble.
You will find a preset chart in the included manual where recommended temperature and time range is mentioned for specific cooking modes.
Also, a crisper tray is available to help you make rotisserie spit, baking pan, pizza rack, and air frying without hassle. Moreover, 3 rack placements allow you to cook several food trays simultaneously. However, the capacity of the crisper tray is small but good enough for a small family.
In terms of performance, this unit is better than many other conventional air fryers in its price range. When using the preset air frying option, it reaches 400 degrees Fahrenheit at 18 minutes. Moreover, it starts the timer settings automatically once the inside is heated enough.
Cleaning the unit is a little bit tricky. The drip pan and cooking trays are removable, and hand wash is recommended. Also, the stainless steel exterior gets smudged with fingerprints. So, use a clean cloth to wipe off the exterior after each use.
Overall, Emeril Lagasse 360 multi-functional air fryer can cook different meals with multiple cooking functionalities. It features 2 racks, a rotisserie basket, and a rotisserie spit to let you prepare other foods.
Pros
Versatile and large air fryer
Shiny stainless steel exterior
Removable cooking trays and drip pan for easy cleaning
Produces crispier French fries in no time
Overriding the control is pretty east
Glassdoor and bright interior light help you know the food condition when cooking
Easy-to-read LED screen
Cons
The convection fan creates loud noise when operating
Powerxl Air Fryer Grill vs. Emeril Lagasse 360 – In-depth Discussion of the Differences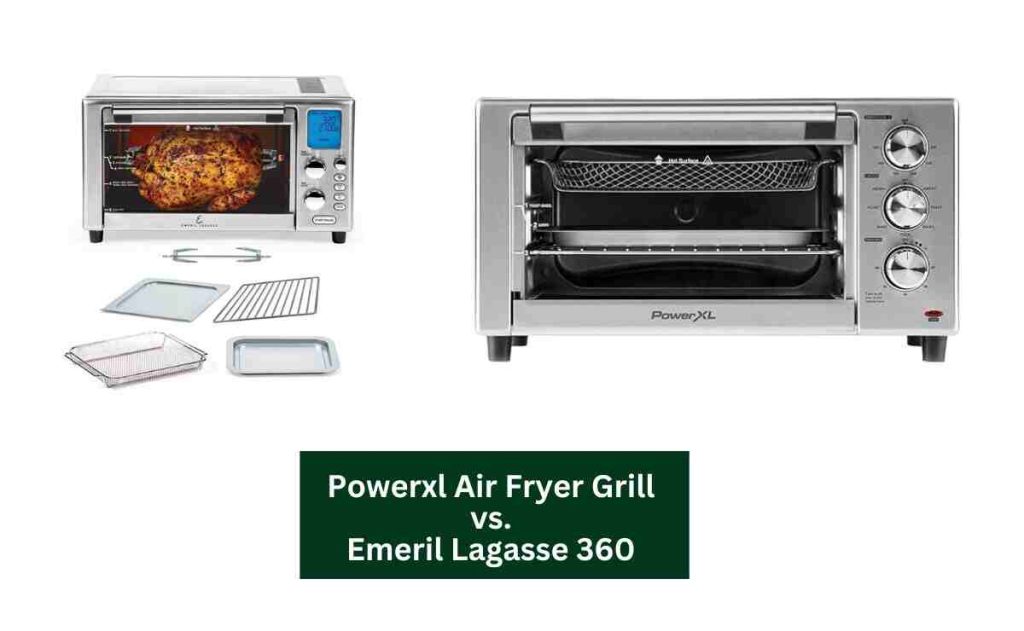 In this section, I looked at the differences and similarities in-details. Read the differences and similarities carefully to choose the right one for your kitchen.
Functions
Generally, air fryer oven features many functionalities. You will barely find an air fryer oven with single functionality. Happily, both air fryers also come with multiple functions. As a result, the user will be able to cook a wide range of meals. But which one has more functions?
The PowerXl has the below 8 air fryer oven functions,
Grill
Broil
Sear
Air fry
Rotisserie
Reheat
Bake/Pizza
Toast
All these functions are excellent for a home chef. Also, these functionalities cover all the necessary recipes.
Now, here are the functions of Emeril Lagasse 360,
Air Fry
Toast
Bake
Bagel
Rotisserie
Slow Cook
Broil
Reheat
Roast
Warm/Reheat
Dehydrate
Pizza
The Emeril 360 features more functionality than the PowerXl. At the same time, these functions are helpful.
But if you intently look at the functionalities, you will find that some functions are available in the PowerXl while others are not in the Emeril.
More functionalities mean more cooking options. This way, users can prepare many food items for their family and friends.
The Emeril comes with a few complicated cooking options unavailable in the PowerXl. Thus, Emeril becomes more versatile than its rivals.
So, in the case of "functions," Emeril is a clear winner.
Capacity
There are utmost few differences between convection ovens and air fryer ovens. The significant difference is the capacity. Air fryer ovens are larger, letting you prepare more food in a single batch. These air fryers are also no exception.
The PowerXl and Emeril Lagasse 360 have 4.8 qt. and 930 cubic inches capacity. Both are large enough to prepare meals. Both will meet your requirements if you need to grill several items simultaneously.
With the help of 930 cubic inches equivalent to 15.24 liters of capacity (more than 3 times than PowerXL), you will be able to prepare the below foods in a single batch,
6 juicy burgers
6 slices of bread
3 bagels sliced in half
A small pizza
The Emeril 360 has 2 racks inside of it. So you will be able to put all these items at once. It can easily cook 4 – 5 lbs. of chicken perfectly.
On the other hand, the capacity of the PowerXl is almost the same at 4.8 qt. The rotisserie spit lets you grill a whole chicken of 10 lbs. Even heat will deliver a delicious and juicy dinner every time.
If you are only considering the cooking capacity, the Emeril 360 wins easily.
Included Accessories
Accessories are necessary components for every air fryer oven. Included accessories are impressively beneficial when cooking several meals in the same batch. For instance, the interior is ample space if there are no racks and trays inside the air fryer oven.
The PowerXl features 6 pieces accessory items, including an extra accessory
Nonstick grill grate
Stainless steel mesh fry basket
Baking pan
Stainless steel roasting rack
Rotisserie spit
Drip tray
Recipe book (additional accessory!)
This accessory list is really beneficial to let you cook just about any meal.
On the other hand, the Emeril 360 is also a versatile one with the below accessories,
Crisper tray
Rotisserie spit
Pizza rack
Baking pan
Drip tray
Emeril Lagasse cookbook (extra accessory!)
Both air fryer ovens have enough trays, pans, and sheets to prepare 2 different items simultaneously.
But based on the list, the PowerXl is the winner. It includes more accessories than the Emeril 360. You won't have to buy separate accessories with the PowerXl in your kitchen top. This way, it becomes a versatile air fryer oven to own.
Power
Sadly, most people don't consider the power feature when buying an air fryer oven. But you will need to think that power is essential since it gets hot.
For this reason, it is crucial to know the overall power and watts of the air fryer oven. A less-powered unit will not prepare food perfectly. Moreover, they will take a long time to prepare meals.
Power may be a minor issue if you prepare small ingredients, but it is helpful when preparing meals for many people.
Both Emeril 360 and PowerXl feature 1500 watts of power. Such a power rating is really good.
Let's dive deeper for additional information.
The Emeril 360 has 6 heating elements. But the PowerXl has only 3 heating elements. This way, the Emeril maintains the heat more precisely than PowerXl. Moreover, it takes less time to cook food.
Although both have the same wattage, Emeril is the winner for featuring more heating elements.
Maintenance and Cleaning
Air fryer ovens get dirty a lot after preparing a meal. These 2 air fryers are also the same. So, every owner looks for an air fryer oven that gives a hassle-free cleaning process.
The Mesh fry basket and cooking racks of the PowerXl are made of stainless steel. The trays and pans can be removed easily. Also, the grill and griddle pan comes with a non-stick feature.
Impressively each part is dishwasher safe. Thus, dismantle all the parts, put them into a dishwasher, and you will have a clean air fryer over.
However, if you don't have a dishwasher at home, no worries, use a mixture of warm water and dish cleaning solution.
You will have a little tricky time cleaning the Emeril 360 as the parts are not dishwasher safe. Use a scrubber and dish-cleaning solution to remove all the grease or oil. Moreover, the parts can be disassembled without hassle.
In terms of cleaning, the PowerXl is the clear winner.
PowerXl Air Fryer Grill vs. Emeril Lagasse 360 – Which One to Buy?
You know the key differences between the PowerXl vs. Emeril 360. But are you still confused? Here is my recommendation for you,
Buy the PowerXl Air Fryer Grill, if
You prefer more functions
The easy cleaning process is your priority
Buy the Emeril Lagasse 360, if
You need quick grilling and more capacity
You are looking for a versatile air fryer oven
Frequently Asked Questions (FAQs)
Is Emeril 360 fryer worth it?
The Emeril 360 fryer has a higher price tag. For this reason, the obvious question comes, is it worth the price? It has multiple cooking functions and several heating elements. But the higher price can't justify the loud noise, and large size is also found in less-priced air fryer ovens.
Is PowerXL a good brand of air fryers?
The PowerXL air fryer grill is a good choice for preparing a variety of food items. You can surprise your family and friends by cooking 10 lbs. of chicken grill, Panini, air frying, and reheating frozen foods. Compared to all other conventional air fryers, it delivers better performance.
Can you put aluminum foil in an Emeril 360?
Yes, you can put aluminum foil in an Emeril 360. More importantly, it is safe to do. Aluminum foil will not get affected by the Emeril 360 air fryer. One thing to keep in mind, air fryer ovens will never catch fire if used appropriately.
What is the maximum operating temperature for the PowerXl?
The maximum operating temperature of the PowerXL is 450 degrees Fahrenheit. Such a temperature creates beautiful scar marks on the food. Also, due to the built-in fan, this temperature evenly circulates inside the air fryer oven, giving a perfectly cooked chicken.
Can you cook frozen food in the Emeril Lagasse air fryer?
Yes, possible. Defrosting is unnecessary when cooking frozen food in the Emeril Lagasse 360 air fryer. Add a few additional minutes in the cooking cycle and wait for the magic.
Conclusion
So, which one will you buy, the PowerXl air fryer grill vs. Emeril Lagasse 360? After reading this comprehensive guide, you can make a precise buying decision.
Both have rotisserie capacity and required accessories to prepare your favorite meals. Functionality, power, and interfaces are also smartly designed to let users operate them efficiently.
It means they will provide excellent performance in cooking an item. Also, both air fryer ovens will surely meet the cooking requirement of a homeowner. Whatever air fryer oven you choose, the most important thing is to learn your preferences.