The Ninja bl770 and bn801 are 2 top blenders that every homeowner craves. Many customers welcomed both blenders for their modern features, versatile performance and affordable price. Are they similar or have differences? 
They feature distinctive differences such as the motor wattage, mechanism, blending speed, dimension and weight. While both blenders create a similar sound level, they are also dishwasher-safe.
Selecting any of them will be challenging. That is why I crafted this comparison guide of Ninja bl770 vs bn801.
Ninja bl770 vs bn801 – Comparison Chart
The below comparison chart differentiates the key features between the bl770 and bn801. Read them carefully.
| | | |
| --- | --- | --- |
| Parameters | Ninja bl770 | Ninja bn801 |
| Motor Power (watts) | 1500 | 1400 |
| Measurement | 15.7" X 9.6" X 18.3" | 7.4" X 9.6" X 18" |
| Item Weight (lbs.) | 5.75 | 8.8 |
| Noise Level (dB) | 23 – 50 | 23 – 50 |
| Body Material | BPA-free plastic | BPA-free plastic |
| Blade Material | Stainless Steel | Stainless Steel |
| Auto IQ Technology | Yes, 4 Auto-IQ Technology | Yes, 5 Auto-IQ Technology |
| Container Size (oz.) | 72 | 72 |
| Dishwasher Safe | Yes | Yes |
| Timer | No | Yes |
| Blending Speed (RPM) | 3200 – 4500 | 4100 – 5200 |
| Noise @ Max. Speed (dB) | 95 | 95.4 |
| Blades | 6-stacked blades | 6-stacked blades |
| Cord Length (ft.) | 2 | 2.5 |
| Speed Settings | 4-speed buttons with pulse | 5-speed settings with pulse |
Ninja BL770 Mega Blender Review
The Ninja bl770 is a 3-in-1 appliance, letting you save valuable bucks. It is a food processor, smoothie and dough maker at the same time. This unit features 72 oz. container, an 8-cup food processor bowl and a travel-friendly 16 oz. single-serve cup. So, you can create smoothies for the on-the-go.
At the base, Ninja bl770 blender comes with 2 HP 1500 watts of the motor. The motor gives even textured frozen drinks every time. Also, it has Total Crush Technology that crushes ice into snow within a few seconds. Moreover, the appliance converts frozen fruits into smoothies without much strain.
Thanks to its food processing feature, it helps you minimize meal preparation time. The unit includes dough blades that kneads your dough and give you a hands-free experience.
When it comes to design, the Ninja bl770 has a simple yet aesthetic look. It measures 15.7" X 9.6" X 18.3", making it compact. This means it doesn't take up much space on the countertop when stored.
In addition, a wide range of components is included upon buying the blender. The included items are a food processor bowl, single-serve cup and container. Every part is made of durable materials. The container feature BPA-free, thick and clear plastic.
The blade's material is also long-lasting and rigid, made of stainless steel. For this reason, rust can't build up in the blade when you clean them with water. Another important note is all parts are dishwasher-safe.
On the base, you will notice the control panel. The prime functionality of the control panel is to let you operate the appliance without hassle.
Keeping this point in mind, the manufacturer designed it with 6 buttons: on/off switch, pulse, crush, dough, blend, and single-serve. Also, it has 4-speed settings, allowing you to prepare your prepared drinks or smoothies easily.
A set of blades are also available with the blender. The dough blades are only suitable for dough mixing. On the other hand, chopping blades let you grate, puree, mix, or chop fruits or veggies.
The capacity of the pitcher is 72 oz. which is quite amazing. You can prepare smoothies or frozen drinks for a small family of 3 or 4 members. Moreover, the food processing bowl holds up to 2 lbs. of flour and lets you prepare dough for 30 seconds.
Pros
It can perform as a blender, juicer and food processor
Decent enough capacity for a small family
Powerful 1500 watts 2 HP motor
Sharp blades and a powerful motor crush ice into snow
3 manual speed control with pulse mode
Maximum liquid capacity is 64 oz.
Tamper-free kitchen appliance
Cons
Unable to prepare hot soups
If interested, you may get more detailed info about this blender by reading my review content on Ninja BL770 Mega Kitchen System.
Ninja BN801 Review
The Ninja bn801 is one of the latest blender lineup additions. The Unique Auto-IQ feature makes it different from other blenders that win many customers' hearts. It combines a wide range of accessories, making it a personal blender, countertop blender and food processor.
Since it is a 3-in-1 kitchen appliance, it lets you save space and valuable money simultaneously. The unit is equipped with 5 Auto-IQ functions which is beneficial for hands-free operation.
The Ninja bn801 blender also consists of a 1400 watts motor, helping you process or blend the toughest ingredients conveniently.
With the help of the Auto-IQ feature, preparing meals becomes super easy. It suggests you preset the program once you place the container in the location for blending.
For instance, if you put a total crushing pitcher on the base, the blender activates ice-crushing and smoothie programs immediately. 
This blender is well-built and features a solid design. Its pitcher is constructed with BPA-free components. It means the smoothies or frozen drinks will be chemical-free. All parts can be disassembled and dishwasher safe. So, there will be no issue cleaning the blender.
Operating the kitchen appliance is effortless with its 4 different manual settings. You can control a recipe taking assistance from the pulse, high, medium, and low-speed modes. Moreover, several well-made accessories are highly helpful in completing different kitchen jobs.
Pro extractor blade assembly is another remarkable feature of this blender. It includes 4 sets of blades. One blade is suitable for crushing pitchers; another let you prepare smoothies in single-serve cups. The other 2 are compatible with the food processor.
More importantly, the blades are super sharp and extremely efficient. For this reason, it is important to be careful when storing or cleaning the blades.
This is a dishwasher-safe blender. Also, you can clean it using warm water and soap. So you won't have to worry about cleaning this kitchen appliance. It is super versatile and efficient in processing food and vegetables.
Pros
Robust construction guarantees durability
5 preprogrammed blending settings
Built-in timer
Mince, puree, and blend fruits and veggies efficiently
The aesthetic look and outstanding design
Necessary parts are included for convenient blending
Pulse control and 3 adjustable speed levels
Cons
.
In-depth Discussion of the Differences between Ninja bl770 vs bn810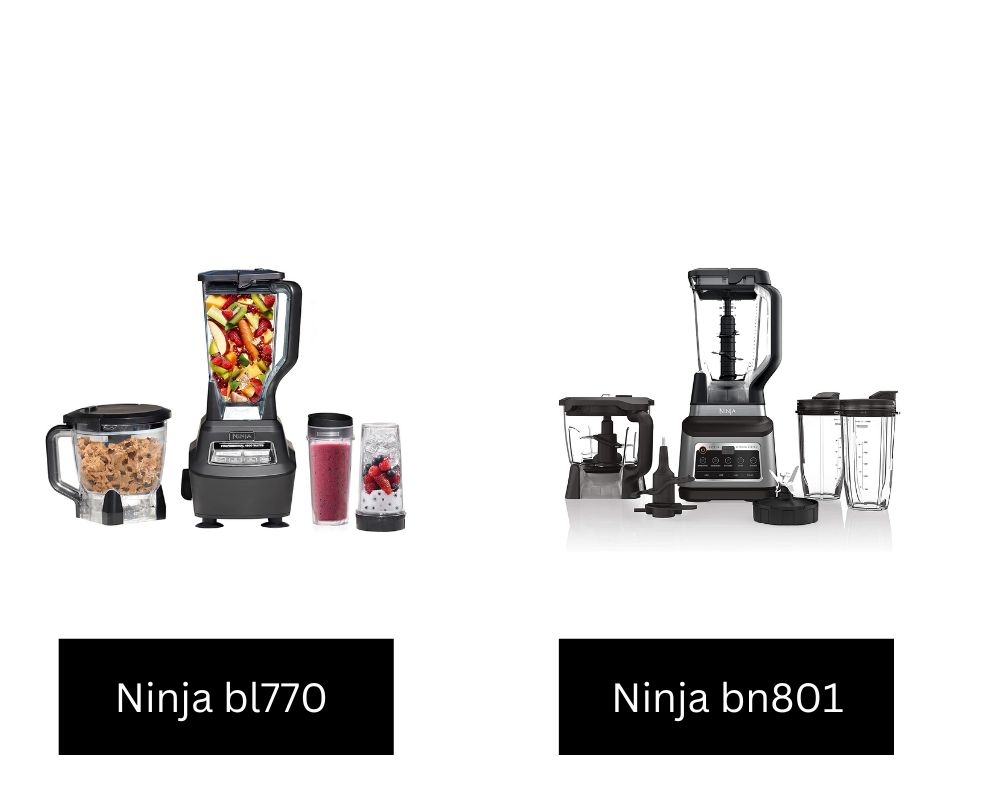 I closely looked at the motor power, usability, control panel, and pitcher size. Here is an in-depth discussion of the differences between these 2 powerful blenders.
Design and Construction
Construction of both ninja bl770 and bn801 is outstanding. Rigid polycarbonate is used to build the jars and bowls. So, durability and reliability are confirmed. However, most parts of the Ninja bl770 are plastic. But these parts are also proven robust.
The jars of the blenders are so sturdy that they can handle warm liquids without trouble. Moreover, the included cups are also made of the same plastic used in the containers. In fact, you can't raise any questions about their sturdiness and longevity.
Let's look at their measurement. The ninja bl770 measures 15.7" X 9.6" X 18.3". On the other hand, the dimension of the bn801 is 7.4" X 9.6" X 18". Their measurement shows that both are compact.
But the bl770 is smaller compared to the bn801. It means the bn801 will require more space to be stored than bl770.
Additionally, their weight also satisfied me. Bl770 weighs 5.75 lbs. and 8.8 lbs. is the weight of bn801. Bl770 is lighter than its counterpart bn801. In fact, the weight is almost double. Thus, carrying the bl770 blender will be much easier. However, you can easily move the bn801 blender too.
Both have almost the same structure, and a beginner will understand the design.
Performance and Motor Power
Powerful motor and extremely sharp blades are 2 remarkable features of both blenders. You will be able to dice, mix, pulverize, slice, and blend multiple ingredients easily. Both blenders don't take any time to finish these tasks.
More importantly, they blast frozen fruits and ice without hassle. Also, the motor doesn't get heated when blending tough fruits and veggies. As a result, preparing your favorite smoothies and milkshakes will never be a troublesome task.
The food processing bowl and blending pitcher also have a decent capacity, making the blender the most versatile. This way, you can mix and chop ingredients with less hassle. Interestingly, both blenders can be used for making dough.
In terms of the blades, both have a stacked blade assembly, making them more exceptional than other blenders. The blades don't sit on the bottom of the pitcher; instead, it creates a center of the tower.
Thus, the fruits or veggies get sliced evenly to give you the required consistency.
Unique Auto-IQ feature is available in both bl770 and bn801. This feature is beneficial when you need to crush ice or frozen items. At the same time, preparing dough, chopping veggies and fruits, and nutrient extraction will be straightforward with these blenders.
An additional plastic blade is also included with the blenders. It helps knead the dough. This feature is rare in other blenders in its price range.
Motor Wattage, Control Panel, and Noise Level
Motor wattage is the key difference between the bl770 and bn801.
The bl770 consists of 2 HP 1500 watts motor. Whereas the bn801 includes 1400 watts motor. So, the motor power of Ninja Mega is higher compared to the bn801. Due to its more powerful motor, the bl770 can handle tougher and more fibrous veggies and fruits.
That doesn't mean the bn801 doesn't give you the required texture and consistency. But the performance is far behind than the bl770.
Additionally, the Auto-IQ feature adds versatility to both blenders. Whether crushing frozen items, mixing dough, or making smoothies, all you need to do is press the required button and enjoy your food.
Besides, the bn801 includes low, medium, and high variable speed settings. So, you can customize the speed settings according to your preference.
You will need to keep in mind, being consistent with powerful motors, both blenders create high noise.
However, it would not be best to use the appliances early in the morning or late at night. Thus, you will be irritating or disturbing your neighbors or roommates.
Installation and Usability
You will have a hassle-free time setting up the blenders. The simple touchpad controls make the installation process straightforward.
A proper setup process is a must if you want to operate the blenders perfectly. For installation, twist the container; you will hear a clicking sound when the jug takes place appropriately.
Both units have 2 to-go cups. As a result, after making the smoothies, you can carry them in the to-go cups while traveling or on the go. Interestingly, both cups feature twist-on lids, preventing accidental slippage.
If you need to prepare food for a single person, these blenders will come in handy. The bl770 and bn801 feature single-serve cups. You don't need to use separate glasses to pour the prepared frozen drinks. In fact, the single-serve cups will let you drink directly without using separate glasses.
A stable, non-slip base is another excellent feature of both blenders. The manufacturer used this feature technically to prevent wobble in the countertop when using them.
Most customers appreciated the incorporated timer feature of the bn801. While this feature is unavailable in the bl770. This feature helps the user to set the duration of the recipe accurately. Thus, consistency is well-maintained.
So, when it comes to usability, bn801 offers better performance.
Maintenance and Cleaning
After preparing smoothies and frozen drinks, cleaning the blenders is a must. You will love to know that the bl770 and bn810 won't give you a tough time during cleaning. The components of the blenders are dishwasher safe, and clean-up is pretty effortless.
Don't forget to rinse the pitchers thoroughly after making different foods. This way, the stuck food will be released from the corners quickly. Also, removing food build-up from the handles of the containers will be pain-free.
Moreover, it would be best to use a pipe cleaner or scrubber to clean the foods that build up in the bottom of the pitcher.
After cleaning with warm water and soap, grab a soft cloth or rag. This will be helpful in removing and wipe off dust.  
Ninja bl770 vs. bn801 – Which one to Buy?
Differentiating both blenders are challenging because they have quite similar features. Both units serve excellently as blenders and food processors.
However, you will need to choose anyone.
Buy the Ninja bl770 Mega, if
You are looking for a powerful blender
You prefer making smoothies and frozen drinks of tougher ingredients like kale
Buy the Ninja bn801, if
You need a versatile blender that can help you in the kitchen by chopping, dicing, mixing dough, etc., efficiently
You want to control the recipe more precisely
Frequently Asked Questions (FAQs)
How do I use Ninja bn801?
The Ninja bn801 is super easy to use with its clear and identical control panel. It features a built-in timer, helping the user to control different recipes. At the same time, the timer blocks undue variations when preparing smoothies and frozen drinks.
How do I use my ninja BL770?
Using the bl770 will always be effortless. The control panel has 5 manual programs to control blending speeds. Also, it has 4 multiple functions: single-serve, crush, mix and blend. The powerful 1500 watts motor will help you truly customize your drinking experience.
Is the Ninja BN801 a food processor?
Yes, the Ninja bn801 is a food processor. In fact, it is a total package including single-serve cups, decent-sized pitchers, and food processing bowls. The bowl's capacity is also good enough, allowing you to speed up the meal preparation time.
Is the Ninja bn801 a multi-purpose blender?
Undoubtedly, the Ninja bn801 is a multi-purpose blender. It has 5 functions for dough, chopping mixtures, frozen drinks, smoothies, and nutrient extractions. Also, it features low, medium, and high-speed settings with pulse features, letting you make a wide range of drinks.   
 
Is a Ninja bl770 1500-watt blender powerful?
The Ninja bl770 has 1500 watts of motor that runs at 3200 – 4500 RPM. If you are a power user and prepare juices, smoothies, or dips regularly, this blender will surely be helpful. However, it is worth bearing in mind that it creates much noise from its powerful motor.
Final Words
So, now you know the difference between the Ninja bl770 vs. bn810.
You will barely find a person who disliked the blender from Ninja.
Both kitchen appliances have great features that will satisfy all customers. The unique attraction of the blenders satisfies most customers. Moreover, they have a sleek and aesthetic design to look at. Also, powerful motors are efficient enough to make well-textured and silky-smooth blends.
By reading this guide, you will be able to choose the right blender for your kitchen. I recommend you to read the features and benefits of the blenders. Then buy the one that meets your requirements. 
Related Posts