Amid all the Vitamix blender models, there are two models that is in my favorites list. One is Vitamix E320 and another is Vitamix 7500. The battle of Vitamix E320 vs 7500 Blender is a common craze in every cook's kitchen.
Vitamix blender is considered the ruler of all blender brands. They manufacture some of the iconic blenders that every household has. Starting from having an exquisite outer design till their unique features, they practically own every kitchen.
Now, to cool down the battle between E320 vs 7500, I have collected the differences that can solve all the confusions.
Vitamix E320 Review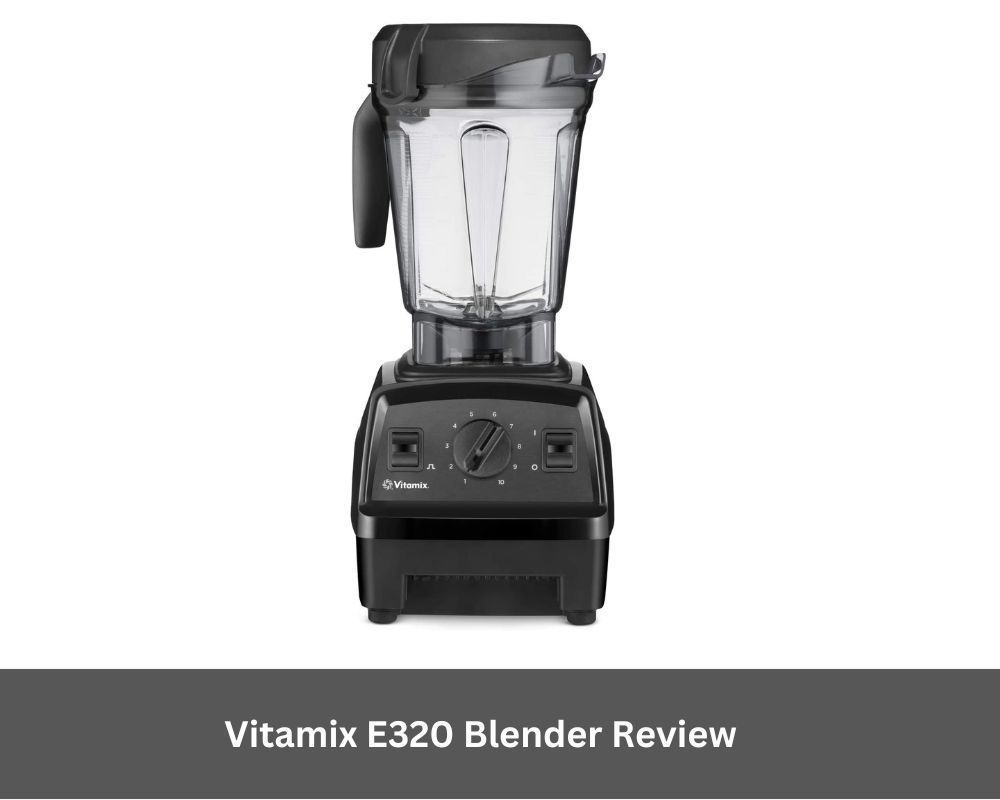 This blender model is my personal favorite. Vitamix E320 blender has the capacity to cook for bigger families. The container is suitable enough to blend, chop, mix, and grind any sort of ingredients in one go.
For people like me, who has to deal with uninvited guests all the time, Vitamix E320 blender can make things easier. The best part is that even restaurant chefs adore this blender. Those cooks can make batch products and use them whenever needed.
These are the pros and cons that I found out after analyzing:
Pros
Since the container of Vitamix E320 is 64 ounces, it is apparent that they are really suitable for making bulk meals. A lot of home chefs recommend this blender model since it saves the time to prepare meals. In addition, it also helps to make ready meals in less than a few minutes.
Vitamix E320 should be called the budget friendly blender. Not only it has all the superlative features, but it is also under the budget. For those who wants to save money but also wants every feature in a blender, this one's for them.
Here is the ground-breaking thing, this blender comes with seven years of warranty! This is a privilege for me since I tend to use the blender roughly and for longer time. For which, if any technical fault or malfunction is noticed, I can get them repaired for free of cost.
E320 blender model has another extra accessory which is the temper. This temper tool can be used to blend or grind in any sort of hard or tough ingredients. Those hard ingredients can become a powder base substance in less than a minute, which is a sheer advantage.
Although the container can carry 64 ounces of ingredients, but it is so durable that I can store it anywhere. This E320 blender model is portable and can be stored in any corners of the kitchen. For people who has smaller kitchens, this blender model is perfect.
Cons
Amongst all the benefits that this blender model provides, the major drawback is the noise level. If I ever use this blender at the highest speed, it will seem like a construction work is going on in the kitchen.
Despite the container is portable, but for those who has a minimum kitchen space, E320 model is not for them.
Vitamix 7500 Review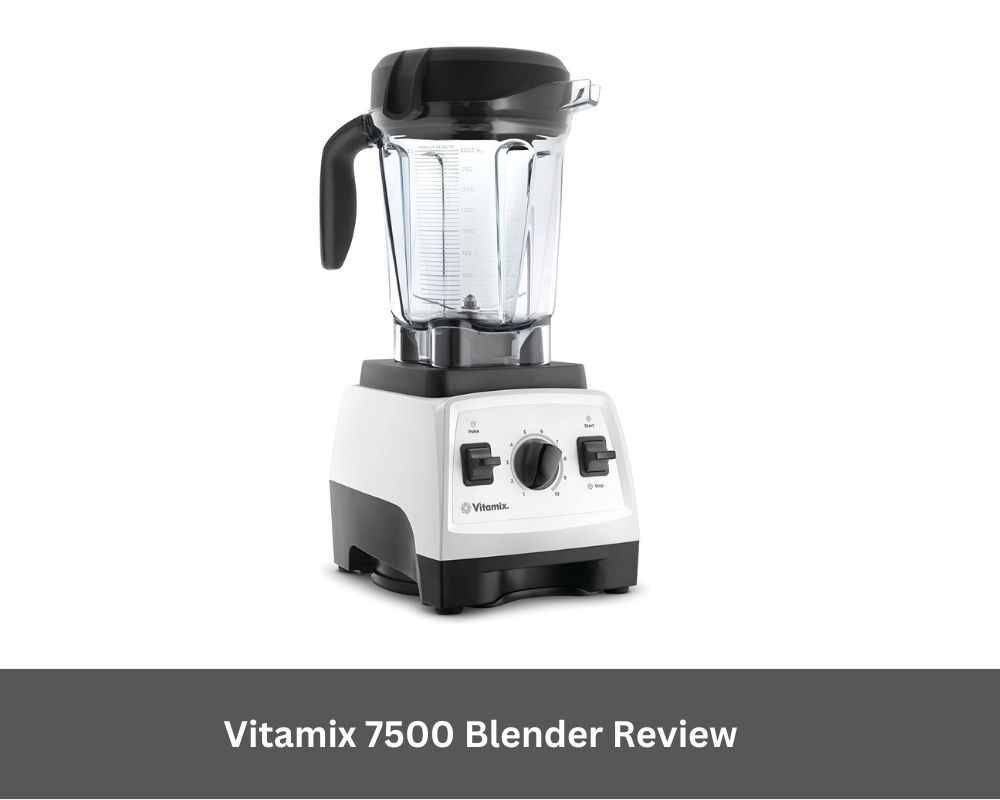 This is the premium most model Vitamix has ever launched. This blender model is efficient for larger households who has bigger appetite. Here is the interesting thing, this blender is used by all the professional and proficient kitchen experts.
I have seen many five-star and Michelin star restaurant's kitchen; they have a set of Vitamix 7500 blenders. This blender is honestly quieter than all the Vitamix blenders despite the power capacity it holds.
To provide a better description, I have compiled all the pros and cons of this particular blender model:
Pros
It is obvious that the large container of Vitamix 7500 is the constant benefit of any restaurant chefs. It can eventually blend an ample amount of ingredients which will be used for batch cooking. This also saves a lot of time, since the chefs have to worry less about blending small batch every alternative minutes.
This has another great feature which is to die for. It has the self-cleaning feature, which diminishes the stress and frustration. A simple dishwashing soap and water works wonders and I don't have to do anything else.
Unlike other legacy series of Vitamix, 7500 also has ten different speed dials. This dial can shift from the lowest speed to the highest speed. It also carries a pulse feature that can bread any chunks into ashes.
Just like Vitamix E320 provides a temper, 7500 model provides a 32 ounces extra container. The best part is that I can use that mini 32 oz blender to blend in any types of grains. Along with that, I can also make sauces and pastes in that mini blender container.
Since 7500 and E320 is of the similar size, it is also portable and durable. Don't get confused because of the bulky amount of ingredients it can cover. The container can be shoved inside the kitchen cabinets without any additional hassle.
Cons
The noise level of 7500 blender model is still an issue that Vitamix cannot solve.
Despite being portable, 64 ounces of container is still big for those who does not have a big kitchen.
Comparison Chart – Vitamix E320 vs 7500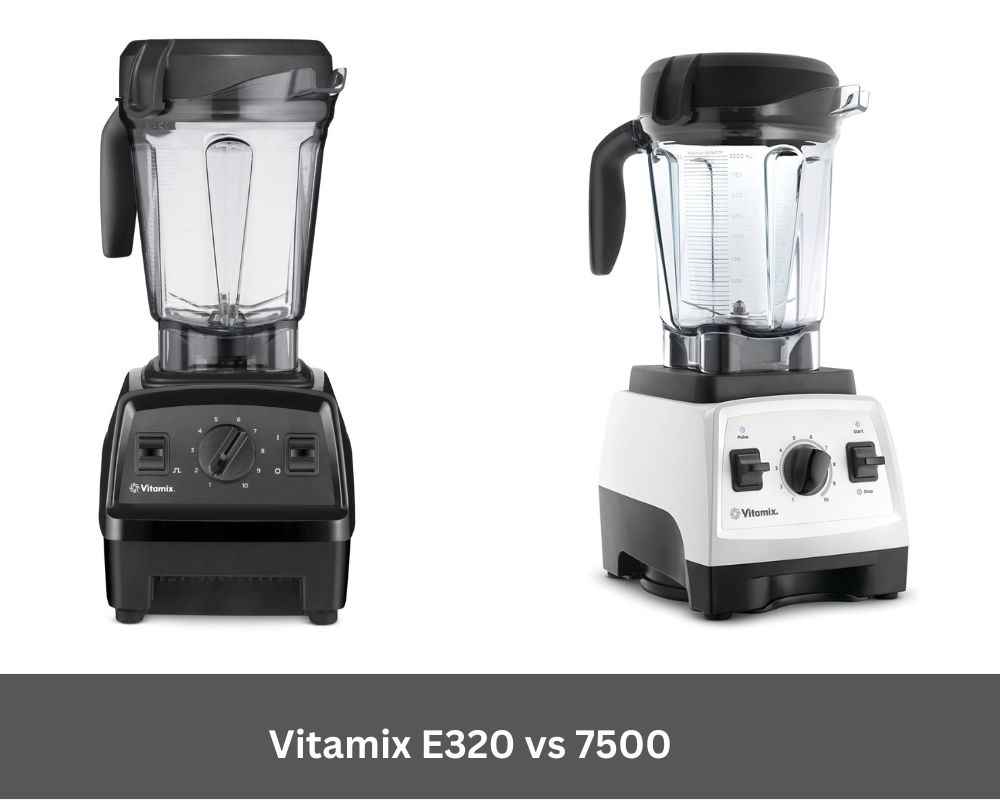 It is now a no brainer situation that Vitamix has some of the best blender models. No matter the differences in the blender models, they are still everyone's favorite. Vitamix E320 and Vitamix 7500 blenders are always in the competition.
Which is why, I have created a comparison chart. This will analyze and accumulate the key difference of E320 and 7500. As this is for my benefit and for those whom I want to recommend the best model that Vitamix has.
| | | |
| --- | --- | --- |
| Parameters | Vitamix E320 | Vitamix 7500 |
| Capacity | 64 ounces | 64 ounces |
| Weight | 14.02 pounds | 12.05 pounds |
| Horsepower/Power | 2.2 | 2.2 |
| Electrical Rating | 220 V | 120 V |
| Blade Number | 4 | 4 |
| Blade Material | Stainless Steel | Stainless Steel |
| Container Material | Tritan | Tritan |
| Self-cleaning | No | Yes |
| Dishwasher Safe container | Yes | No |
| Noise | 98 dB | 80 dB |
| Best for | Big household | Busy kitchens |
| Wattage | 1580 W | 1440 W |
These comparisons are some of the noticeable and major differences that I have found. Such differences are the reason chefs and cooks decide which one to buy. If I have to see the difference, I would notice the power and the noise level.
In-depth discussion of the differences: Vitamix E320 vs 7500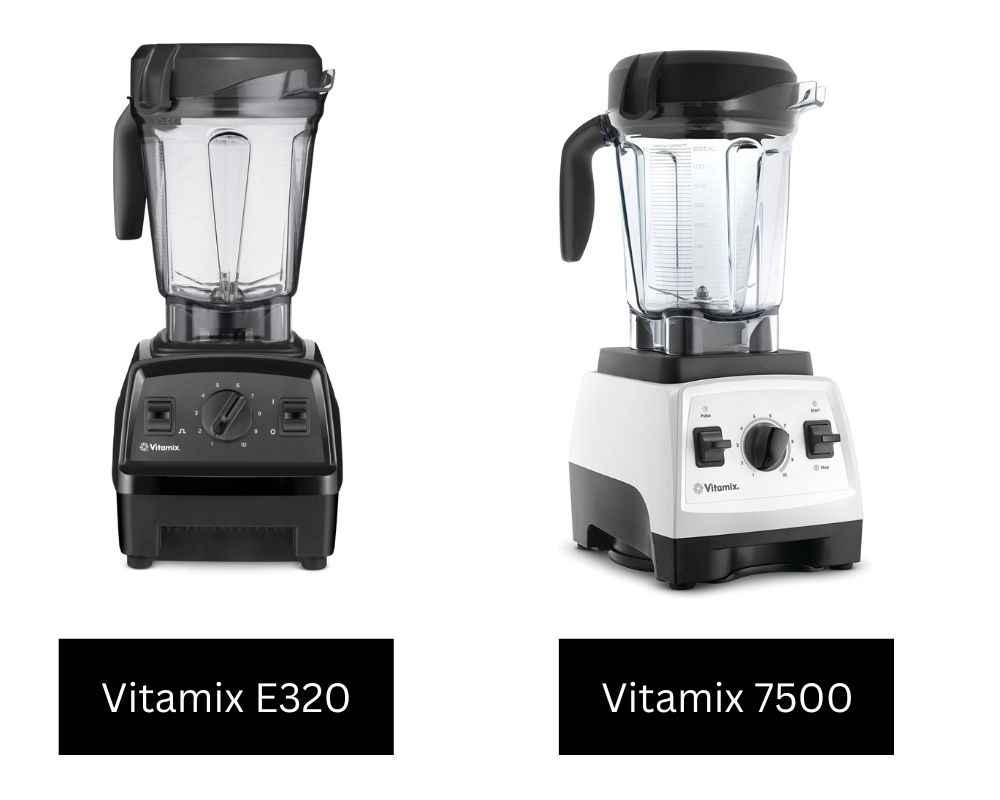 Talking about the in-depth differences of Vitamix E320 and 7500, they can be the stars of both worlds. Let that be in the kitchen of a home cook or a five-star kitchen, they eventually rule that place. Maybe there are a few differences I thoroughly analyzed that can be a gamechanger.
Some features or additional products can be helpful in terms of batch cooking. However, to make the things simpler and more understandable, allow me to detangle the wires of confusion.
Performance
The performance of both Vitamix E320 and 7500 are ditto to each other. Since both of the models have 2.2 horsepower, it is quite evident that the performance of both blenders is superior. Moreover, they can blend or grind any ingredients that contacts with their blades.
But here is the thing, 7500 is like the quieter alternative of E320. Despite the horsepower being similar, and the ingredient capacity being similar, 7500 is still quieter. Hence 7500 model can be the best option for those who wants to enjoy cooking without loud noises.
Power
Again, the horsepower of both the blender models comes in terms of comparison. But E320 and 7500 blenders are equally powerful. Both blenders can chop off anything, let that be meat or solid nuts. It will take less than a few minutes to turn solid grains and seeds into powder.
So, to compare these models, both do not have any sheer or minor differences to notice. Apart from the watt they use and the noise they make, they don't have any difference that examines their power.
Design and Size
The designs of E320 and 7500 are considered the minimalistic designs any blenders can carry. Their simplistic outer look gives the household a more sophisticated look. To match the aesthetics of the kitchen, they have different color variations which gives the kitchen a divine look.
However, the only difference here is that E320 comes in only two colors, and 7500 comes in 3 different colors. Moreover, the size comparison is noticeable, 7500 model is slightly bigger than E320.
Construction
As for the construction, Vitamix E320 blender's container is 17.5 by 7.5 by 9.4 in dimension. Whereas, the container size of Vitamix 7500 blender is 11 by 8 by 18 in dimension. It also has speed dials made with rubber-like substance which makes it easy to use.
By comparing the construction, 7500 model blenders are bulkier and bigger in size. Nevertheless, these two models are exactly similar in construction. Since the speed dials and the pulse feature is exactly the same, there is literally nothing to differentiate.
Controls
The brands are stepping inside the world of advancements and digital technology. However, Vitamix has hold the "old is gold" phrase way too strongly. Which is why both Vitamix blender models and all the other non-mentioned models have physical buttons.
The speed dial of both blenders consists of 10 different speeds. Starting from low to highest, these models are used by people having no tech knowledge. Along with that, E320 and 7500 has a pulse button amid the on/off buttons in the blenders.
Noise level
I have come across many Vitamix blender models, and E320 is by far the loudest model. It is so loud that I feel my neighbors next block can hear me blending or grinding. Carrying a dB of 98, only restaurant chefs with busy kitchens can use them.
On the contrary. 7500 is the quiet-most model they manufactured so far. It has a dB of 80, which is actually suitable for using in households. Those who wants to cook with as minimum noise as possible, Vitamix 7500 blender is perfect for them.
Cooling
Vitamix E320 is known for having an in-built sensor and fan that cools down the blender if overheated. I tend to use my blenders roughly for which overheating issue is quite obvious. This sensor and safety fan saves the blender from getting damaged before time.
But, Vitamix 7500 blender unfortunately excluded this amazing feature from their blender. Hence the risk of getting overheated due to rough use can be a possibility. This feature technically saves life of every cook since overheating may cause a burst.
Pulse Feature
Pulse feature is more like a known feature in Vitamix blenders. Both the blender models have the pulse feature which has the ability to crush solid food chunks. This feature can go above the highest power the speed dial has.
This ability is the sole reason why people like me loves to go for such models. I can add any food, they will crush them into zillions of pieces within a few minutes or less. So, there is legitimately nothing to compare about the pulse feature of E320 and 7500.
Cleaning
In terms of cleaning, 7500 wins the race. It has a self-cleaning feature which can be used to clean the container's inside automatically. All I have to do is pour warm and soapy water inside and then let it spin for thirty to sixty seconds.
Although 7500 has a self-cleaning feature, but it is not dishwasher safe. Hence the manual washing of the container's outer layer is still present. In E320, nonetheless, does not have a self-cleaning function, but is dishwasher safe. So, in that case, I can throw E320 in the dishwasher unworried.
Blade Materials and the Prongs
Talking about the blades and prongs of Vitamix E320 and 7500, both are of the same material. Both blender models have a stainless-steel blade which can slash any food pieces in chunks. The prongs in both models provide an appealing and clean texture in smoothies or juices.
Moreover, the blades are in-built, which means I cannot take them off from either of the blenders. This states that if the blades don't work properly, I might have to buy a new blender. However, these blades in E320 and 7500 can last for at least 5 years, even if roughly used.
Additional Features
Now comes the interesting part. Vitamix provides additional or extra feature or functions in every models. Vitamix E320 has a temper included which can be used to blend in all the meals that are underneath the blade. The temper will ensure to blend or grind in the last pieces into paste or powder.
Vitamix 7500, on the other hand, comes with another small container along with the 64 ounces container. The extra container is of 32 ounces, which can be used to blend or grind in small ingredients. It can also blend smoothies or juices but for two persons maximum.
Vitamix E320 vs 7500 – Which One to Buy?
Vitamix has been everyone's favorite for years after years. E320 and 7500 are in the demand for every home cook or professional chefs. Both the blender models are similar yet unique in their functions or from their design perspectives.
But if you ask for my opinion about which one to buy, I would definitely recommend Vitamix 7500 blender. Both E320 and 7500 blender have similar features and functions. In terms of performance and power, 7500 and E320 is exactly ditto to each other.
But the additional features play a big role here. The temper may not be useful in all terms but the extra container is pretty handy. So, I will recommend everyone to go for Vitamix 7500 blender.
Frequently Asked Questions (FAQs)
Is the Vitamix E320 good?
Most certainly yes. Vitamix E320 is one of a nice blender and the features are quite unique. It can blend and grind any grains, solid foods, or even wet ingredients. Although it is a bit on the noisier side, but it is a fan favorite.
Is the Vitamix 7500 good?
It is by far the best product Vitamix has ever manufactured. Despite having similarities with Vitamix E320 blender, but it works better and quieter than E320. It also has a self-cleaning feature which is really useful in case a quick wash is necessary
Is the Vitamix E320 loud?
Vitamix E320 has a decibel of 98. This means it is the loudest blender of Vitamix let that be of any series they manufacture. As per my opinion, if I start blending in my kitchen, I am pretty sure my neighbors from another block might hear the noise.
Is the Vitamix 7500 quieter?
Despite having a horsepower of 2.2, it is on the quieter side. Vitamix 7500 has a decibel of 80, which means it will have noises coming, but not that loud. I can use this blender in the kitchen whenever I want, even in the middle of the night!
Does the Vitamix 7500 make hot soup?
Vitamix 7500 has the ability to keep any meal hot. Even if I decide to make hot soup, it will keep it warm as long as it is in the room temperature. Overall, to answer the question, yes it can make hot soup.
Final Words
Vitamix blenders are like my kitchen necessity. Let that be for my aesthetics or for making any recipes, Vitamix blender is my go-to product. As per my recommendations, I will say everyone should choose 7500 model.
But the catch is, 7500 is a bit pricier than E320, but it makes less noise than E320. Although both the model has the same quality and functions, but Vitamix E320 Blender is more on the budget side.
Hence, if any individual is looking for a budget friendly blender, E320 is best for them. But if anyone is willing to get a better blender by spending a bit more than usual, 7500 model is the best.
Related Posts